We welcome anyone and everyone to join our community. We treat each other and the space with respect and loving kindness.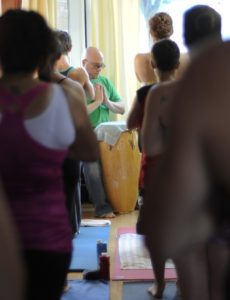 Please honor each others' practice and the sanctuary of the studio with the following observances:
Remove your shoes upon entering the studio.
Remove dangling and protrusive jewelry.
Perfumes/colognes. Please DO NOT wear perfumes or colognes in practice.
DO NOT chew gum during practice (this is for your safety as well as to respect others)
Turn all mobile devices OFF or on SILENT. (no vibrate mode)
Observe a noble silence upon entering  the studio (class may be getting started or ending).
Open and close doors gently and slowly to keep noise to a minimum.
Bring as little into the studio as possible (bags, books, etc) we have little to no storage space.
Place your mat down and roll it out. Do not drop it down.
If you must leave class early or arrive late please honor the practice of the group by being as silent as possible.
WHAT TO WEAR/BRING FOR YOGA CLASS:
Comfortable and stretchy pants and tops. Women, sports bras are recommended.
No shoes. Socks are not recommended but we leave that to your discretion
Bring a towel for sweat.
Bring water.
WHAT TO WEAR/BRING FOR TAI CHI CLASS:
Wear soft-soled indoor shoes (or wipe down the soles of outside dirt and grit)
Wear loose-fitting pants and tops.