I always wanted a dog. I grew up with a black lab and a golden retriever and my first dog ever was a beagle, who was hit by a car when I was 5.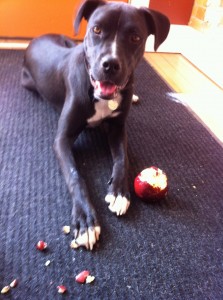 I always wanted my own dog.
When I got a house in Lansing, with a big fenced -n yard, I thought for sure I would get a dog. I had three cats and so wanted a dog. But, my then-husband wasn't interested.
Down the street from Just B Yoga were some kids with a big black lab boxer/collie/pitbull mix named King. King kept escaping from yard, wandering into the street and the yoga studio starting in the summer of 2012. Belinda, the studio owner, would take King home over and over again. But he kept escaping.
King was a birthday gift for Amaia, the youngest daughter. She saved her money to adopt King from the Humane Society.  But the family had work and school. So, their two dogs, King and Jazzy, were kept outside in their yard a lot
King became an escape artist…he found ways out of the yard and he found things to do to keep him entertained, like fording the river.
King has popped into the yoga studio during classes before. He's sat through the yoga class until Belinda finished teaching and she could take him down the street. He's even gone on a trip to Onandaga with a group of yoga students for an afternoon outing because no one was home and there was nowhere to keep King except take him along!
This summer a neighbor called the Ingham County Animal Control and King Raja (his full original name) was taken to doggie prison. Now don't get me wrong, this doggie prison is pretty darn amazing. Ingham County Animal Control is full of incredible people trying to do great things for the animals in our community. None the less – King was in a holding cell until his owners bailed him out.
Belinda and I were walking on the River Trail at Hawk Island. She was on the phone with Amaia's mom, Aimee, and they were discussing options. Aimee knew that Belinda wanted the best for their dog. She wasn't sure what to do. She couldn't afford the fees to bail him out. King wasn't up to date on his shots and he had a bail fee and he needed to pay his Ingham County hotel bill.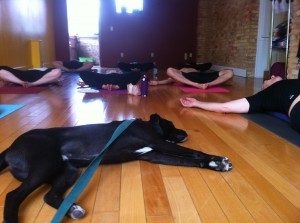 I always wanted a dog.
King was a sweet, laid back, chill kinda dog. I remembered the car ride to Onandaga with King. He had a great time riding in the car and exploring. His soulful eyes made me recognize him as a lost little brother.
I offered to bail King out and take him home with me. It was clear that if he went back to their home he would just get out again and  maybe next time we wouldn't be so lucky and he would get hit by a car.
I left early from work and spent two hours at the Ingham County Animal Control in Mason. Aimee signed King over to me. Ingham County processed a crap ton of paperwork. They got him up to date on shots and micro chipped him. I paid his bail and took him straight to Preuss Pets for a collar and a leash and some toys. Then, home we went, to live in the garage and to try to convince my husband that King could be a new addition to the family.
The girls took care to give me his dog food and his toys and tell me all about what he liked and didn't like. They clearly loved their dog. I promised he would have a good home.
That didn't go as planned. Everything is a practice, and King was no exception. We get to choose our intention, but we don't get to choose the outcome. King hated being in my heated garage and barked a lot. I would walk him every morning, lunch and evening. But he had more energy than we were prepared for. He tore things up and wasn't house broken. We didn't trust to introduce him to our three cats. We decided he needed to find a better and permanent home.
My Aunt Mary has multiple sclerosis and is wheelchair-bound. Her aide, Sharon, who always had a sweet smile on her face, knew my aunt missed having a dog around and offered to take King in with them, up by my parents' house in Sanford.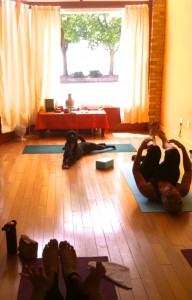 That weekend, I drove King up and spent an hour with Sharon, outside…training her on how to train King. We walked back and forth in the fenced-in yard and used pieces of cheese and treats to get him to heel and sit and come and lay down. Sharon was worried about using a loud voice and never wanted to make things uncomfortable for King. She didn't want to yell. So, he was trained with a soft voice and a soft touch and he had the run of the house. My aunt coached Sharon on how to train King. He got into plenty of trouble – eating food off the counter and even chewing through my aunt's electrical power cord on her uber expensive lift wheel chair. Oye.
Still, he was a sweetheart, and my parents and my aunt helped Sharon manage him.
A few days before Christmas, his owner, Sharon…went missing.
She was battling things in her brain that I have no understanding of. She decided she was done dealing with this world and ended her life.
King would need a new home. My aunt was not able to care for him. The Saturday after Christmas, my mom graciously met me in St. John's and helped me load King and his toys and crate into my car.
Sitting in the parking lot of the Biggby's in St. John, I looked at King and started to cry. Since the last time that dog was in my care so much had happened.
I got a divorce.
I adopted a sweet, three legged little dog named Vira.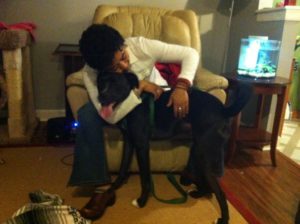 I lost two members of my three-cat family.
My life shifted in amazing ways.
Oh King, we had both been through so very much.
I looked into his eyes, cried, petted his head, and took the slow, long way home to Lansing. I didn't think he would get along with Vira, so I kept them apart and alternated who I let out and when, giving them equal time in the yard and walks and equal time in the house. Loki, my 12-year-old Siamese cat, was not thrilled.
I couldn't keep King, but I owed this dog. I believe he was part of my life for a reason. He certainly has angels looking out for him. So, once again, we posted that King was looking for a home. By this time, King was responding to the name George, which is what Sharon had named him. Two days after posting all over the place about King, and contemplating taking him back to the Capital Area Humane Society we had a hit!
A man, Mike Hoorman, from Portland, Michigan, was interested!
I contemplated having him sign an agreement or doing a questionnaire or a reference or background check. Seriously.
But, instead, we had a great phone conversation about his situation. He and his wife and teenage daughter had been looking for a boxer type dog to add to their home for about a year now. They had a boxer mix before. They had a big, fenced-in yard in the country. King would be their only pet and he would be immensely loved. I agreed to have Mike come by the next day, after his work shift, to meet King.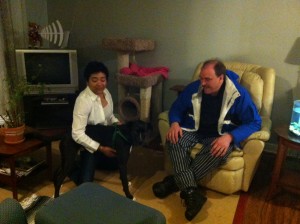 Mike came in and immediately King jumped up with his paws on Mike's lap, as he often did, Mike laughed and said "yep, he's a boxer!" I snapped on picture of Belinda and Mike and King. Mike took King home that night, as his wife and daughter were waiting with baited breath to meet the newest member of their family.
King had another new home. His third in 2013 (if you don't count being in the pound.)
I always wanted a dog.
I am grateful for the love and light and sweet energy that King brought into my life. I'm grateful for the experience he had with my aunt and her aide, Sharon. But most of all, I'm grateful that King showed me what a brave, bright, wild, sweet spirit looks and feels like when I needed it most. It's been a long journey, buddy, and I'm grateful to be part of yours.
XOXO,
Em