"Just B Yoga represents diversity of shape, size, age, race, sexual orientation, gender identification and/or expression, and is committed to making our programs accessible and affordable to all."
Our vow to you: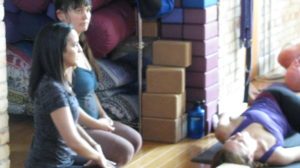 We respect our students and their needs.
We are committed to teaching yoga safely and mindfully.
We will not give hands-on adjustments without a student's consent.
Responsibility of the Student:
We ask students to mindfully select the class that will suit your abilities at this time and to inform the instructor of any injuries, surgeries, restrictions, sensitivities or areas of concern.
Learn about studio etiquette HERE
---
LEVELS 1-4 (challenge increases with number)
Meditation (Level 1)  Find quiet in mind and body with this 20-minute  meditation class. The class offers a variety of techniques drawing from Tibetan Buddhist, yoga and Taoist practices.  The goal is to give practitioners accessible entry points to meditation. (Instructor: Belinda)
Basics (Level 1-2) The basic fundamental approach to most poses are offered. Students learn to modify postures and to use supportive yoga props to make poses and movements accessible and safe. Class also introduces students to foundations of breath practice (pranayama), meditation (dhyana) and philosophy (sutra). (Instructor: Belinda, Donnielle)
Yin Yoga (Level 1-2)  Class consists of a series of long-held, passive floor poses that mainly work the lower part of the body—the hips, pelvis, inner thighs, lower spine. These areas are especially rich in connective tissues. The poses are held for up to five minutes, sometimes longer. (Instructor: Donnielle)
Restorative Yoga (Level 1-2) This relaxing and slow paced class is about rejuvenation and renewal. Props, like blocks, bolsters and blankets are used for comfort. We then hold the pose for an extended period of time.
This practice can help relax and rest the busy and agitated spots inside us. (Instructor: Heather)
Yoga 2eXceL (Level 2-3) Taught with elements from Curvy Yoga training, this class is designed especially for bigger and taller bodies. Sequences may gradually flow from gentle and restorative to moderately-paced to build strength, stability, balance and flexibility along with breath awareness. Students learn to modify postures and to use supportive yoga props to make poses and movements accessible and safe. (Instructor: Belinda)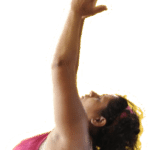 Chakra Flow (Level 2-3) Balance all of your energy centers with a creative integration of yoga poses, breath practice, meditation, sound, chanting, and aromatherapy. Modifications and variations are offered (to suit diverse bodies and abilities). (Instructor: Belinda)
LGBTQIA Flow (Level 1-3) This LGBTQIA and Ally-friendly class offers space for us to cultivate a safe and nurturing environment in community with each other. Class varies from a flowing yoga sequence to workshop-style classes in which focus is given to a type of posture, transition or philosophy. Poses are taught considering various possibilities like recent surgeries, the effect of hormonal changes or overall body image/identification issues. Beginners welcome. (Instructor: Heather)
Empower (Level 2-4) Empower yourselves to find your edge without cutting yourself with it! This challenging class is suited for students who have developed fundamental understanding of breath awareness and alignment in yoga postures and transitions. Specific focus is given to core and upper body poses, including inversions and arm balances. Modifications and variations are offered to suit diverse bodies and abilities. Studio heated to 80-90 degrees. (Instructor: Belinda)