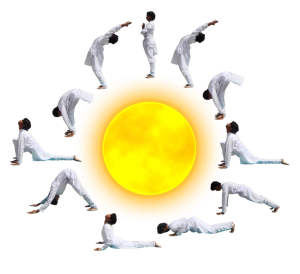 Just B Yoga will hold a special "108 Sun Salutations – Or Something Like That" yoga class on Tuesday, June 21 the day of the Summer Solstice.
CLASS SOLD OUT. FULL
Tuesday, June 21 6-8 p.m. Reception to follow. Regular Tuesday classes canceled.
This is a powerful practice and a powerful day to practice it. The Summer Solstice is the longest day of the year.
The number 108 is symbolic on many levels in this practice, considered the number of unity and infinity…it is the number of prayer.
108 sun salutations is whole body prayer or mantra in motion. The rhythm can carry your practice to new places.
It's presenting our bodies, minds and spirits as an offering in honor of this height of power and influence the solar system has on our planet.
Join us for this specially led practice. Teachers will talk you through with alignment but more importantly spiritual encouragement. It doesn't matter if you get close to 108, it's the intention of your practice that matters.
I've practiced 108 numerous times at different studios around the country. Some do 54 Sun Salute As and 54 Bs. Some do 27 A, 27 B, 54 alternating. We shall see how it goes.
I'm inviting some acoustic musicians and singing bowl players to help keep our energy positive and spirits inspired as we put our practice into motion.
Usher in the summer with this ritual practice with your Just B Yoga sangha  (community).
Just B Blog reading: Preparing our spirits for 108 sun salutations
=============================================
Refreshment + reception to follow.
Suggested class donation $10.
Half the proceeds will go to The Garden Project
CLASS SOLD OUT/FULL