Just B Yoga Trauma-Sensitive Yoga Programming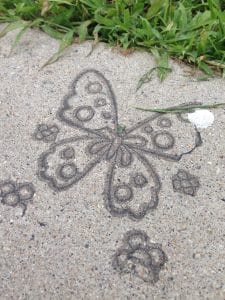 Traumatic events and incidents can have a lifelong impact. The incident, whether natural disaster, assault, rape, traumatic/dramatic loss, can create behaviours and fears that are hard to control. When trauma survivors are triggered – reliving an experience in body or mind – they can feel panic or loss of control. The impact can severely affect work, family life and overall sense of being.
Yoga is a practice that creates connection. Yoga's practices of breath, mindfulness and meditation and movement and body postures are excellent tools to help us self-regulate and heal from trauma. The practices help us gain awareness of thoughts, feelings and behaviors and recognize whether we are responding to the now or the past or the future.
Just B Yoga provides custom trauma yoga programming for all ages.
Youth – ages 5-12
Teens – ages 13-18
Adults – ages 18+
Clients include:
Firecracker Foundation
Ingham County Community Mental Health
Angel House
---
Our partnership with Just B Yoga has had a tremendous impact on the treatment we have been able to offer to youth with a history of complex trauma.  Trauma sensitive yoga allows for another, often more effective, way for these youth to develop a number of important skills.  There is a strong emphasis on creating a safe space for learning and youth are encouraged to take ownership of their bodies and their experience within the group.  They increase their body awareness as well as their ability to identify and regulate their emotional state.  This has been a unique opportunity for our client's to practice choice, control and self care.  It carries through into all aspects of their mental health treatment.  All of our client's have reported a positive and moving experience. The respectful and intentional climate of Just B Yoga has enabled our clients to engage in something new to them, to take a chance and be vulnerable and to be supported and validated as a result.  We are so encouraged by the value that trauma sensitive yoga has brought to our treatment.  We will continue to work to integrate it into the services we offer here at Families Guidance.
Andrea Carlson|LMSW
Supervisor, Family Guidance Services, FAMILIES FORWARD
Community Mental Health Authority of Clinton, Eaton, Ingham Counties
---
Description: A custom program for survivors trauma (physical violence, sexual violence, natural disaster, war violence, traumatic event). Classes can be provided weekly, biweekly or more often. Private sessions and group sessions available.
Pricing
Consultation, $100
Groups:  5-8 students, $120 per class; 8-12 students, $180 per hour-long class (Minimum 8 weeks, 15 recommended) (rate set based on initial registration number)
⅓ of program costs due one week before program begins.
Individual: $70/hr privates
Costs include: Facility, equipment, materials for class (markers, pens, coloring books, Wisdom cards, permission stones), liability insurance, promotional materials, reporting time, admin and prep time per class, program planning
Assessment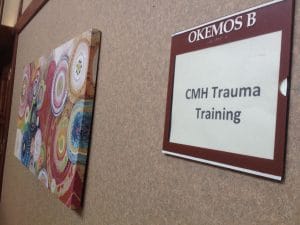 Just B Yoga provides an assessment/consultation to learn the needs and circumstance of the prospective clients. The consultation takes an hour to two hours depending on the scope of the program and number of clients possible. Clients are given an overview of the trauma-sensitive yoga programming and what it involves.
Program development
Custom programming is developed for each person/organization. Programs vary in length and substance.
Reporting
Just B Yoga keeps notes of sessions per client and writes trauma plans and reports for the group or individuals. The reports help guide the structure of the classes and keeps track of progress or notes concerns. These are confidential reports and no identities are revealed.