What We Offer
Yoga
Our teachers offer yoga of many types of skill levels.
Partners – Lansing Made
Tai Chi Chuan
Learn the Cheng Man Ch\'ing Short Yang form
Massage
Soothe and heal the aches and pains with therapeutic massage or Thai-Shiatsu bodywork
Workplace Wellness
We offer custom stress management presentations and yoga classes for your office environment.
Kids Tai Chi
We offer youth programs for tai chi.
About
Just B Yoga & Tai Chi LLC
Yoga, affordable and accessible to all
Mission: "Just B Yoga represents diversity of shape, size, age, race, sexual orientation, gender identification and/or expression, and is committed to making our programs accessible and affordable to all." Just B Yoga is a donation-only studio offering yoga, tai chi and meditation for the Lansing community. We strongly believe health and healing should be affordable and accessible. We are a community of teachers and students who believe in Lansing and care about our future. We support the planet and sustainable practices. We support local, because growth and healing starts at home. We support loving kindness and paying it forward. Just B is about community and sharing and in that collective we find strength. So if you've done yoga and tai chi or meditation all your life, we'd love for you to come join our community. If you've barely moved off the couch in years, we'd love for you to join our community. The only limitations we truly face in life are self-imposed.
Voted Best Yoga Studio 2015

City Pulse "Top of the Town"

Hometown Health Hero 2012

Michigan Health Department

Curvy Friendly

Certified by Curvy Yoga

Founded 2010

Opened doors in REO Town
5-CLASS PACKAGE (GOOD FOR 6 MONTHS)
Latest news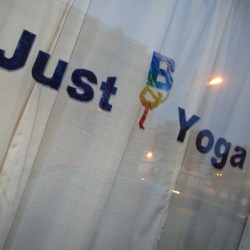 Just B Yoga, a donation-based yoga studio, got started on a public bus in 2010. It was the #14 on the CATA system here in Lansing. Michigan was in the tailwind of the Great Recession. It was an idea that got into motion as I noticed no one who rode the bus with me went[…]

Our friend and fellow yoga student, Julie Cotton-Fire Reed, lost her home in a fire yesterday. It's all gone. Apparently she smelled the smoke overnight before the alarms went off and was able to get her family and even the cats out before it all burned down. We are relieved to know they are safe[…]
Previous
Next