About a year ago I was upset with a friend and not understanding why. She hadn't done anything offensive or mean. She was extremely nice, often giving me gifts and being helpful. I had asked to stop, but to no avail. I was actually starting to feel bad that I was in the wrong for not wanting to accept the friendly gestures.
I heard myself say "Why can't my no be no?"
There it was.
Flashback to being a little girl under the weight of a full-grown man (my mother's boyfriend) repeatedly penetrating me, ignoring my tears and my "no."
I would grow into a person who spoke little about how I felt and eventually even lost the ability to scream (to this day), even if I'm in extreme danger (I was dragged by a horse once. My mouth was open and air came out but no scream.)
I had muted my own voice.
Shatter the Silence. Stop the Violence
Take Back the Night has come to represent shining light into the darkness and speak loudly and with one voice as a community against sex assault.
According to Take Back the Night "at least one out of every three women WORLDWIDE has been beaten, forced into sex or otherwise abused in her lifetime by a partner, relative, friend, stranger, employer, and/or colleague. Of these crimes, less than 50% are reported to the police."
In the face of these statistics I'm sad to be 46 years old and only now openly talking about my abuse.  That's decades of silence that could have been spent helping shed more light, raise more awareness and help stop the violence and the violation.
I claim my voice now. I recently began teaching yoga to victims of childhood sexual trauma through Free Being Yoga Network. And this weekend, Just B Yoga is holding three themed yoga classes leading up to Take Back the Night celebrating the journey from victim to survivor to warrior.
Yoga has been an amazing form of therapy for me on many levels. It has helped me heal a broken body and my body image. It has helped me face emotions and patterns I hadn't allowed myself to sit still enough to see. It has allowed me to confront demons and unhealthy behavi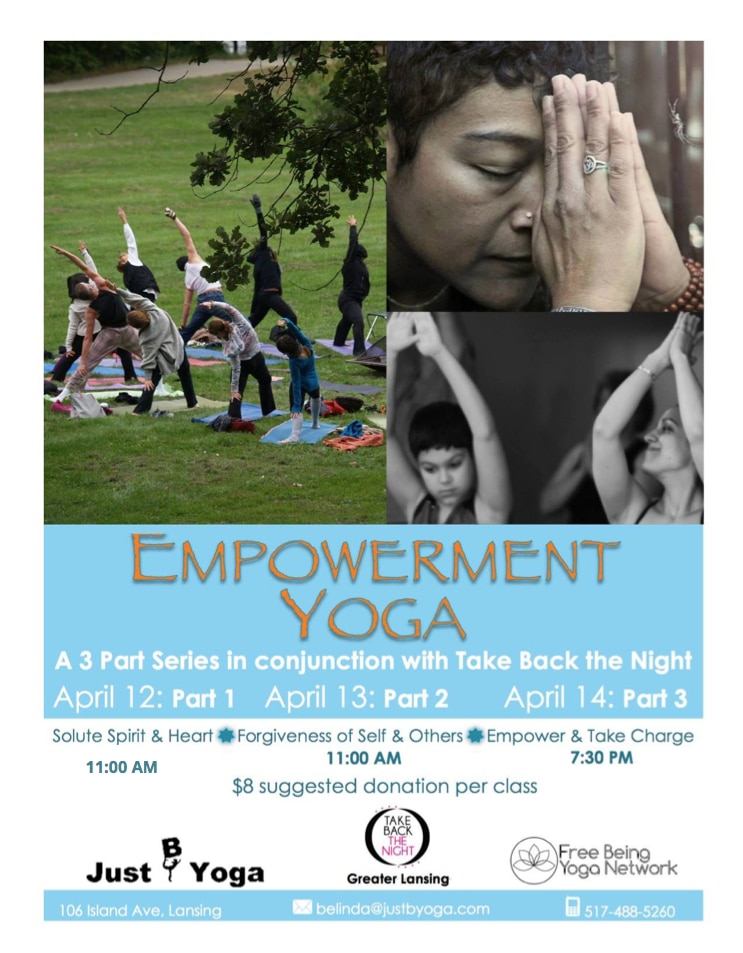 ors.
Best of all it is continuing to help me forgive the innocent little girl me (the victim), love the young adult me who was sad and ashamed (the survivor) and encourage the present-day me who vigorously wants to help support community and healing (the warrior).
You don't need to have experienced a sexual assault or trauma to identify in this class. Anyone who has had a situation or experience forced upon them can connect. Have you stifled your voice, your story, your importance due to shame or fear? You are welcome in these classes.  Have you needed an advocate, someone to hear you, believe you and speak for you? Can you be that for someone else?
That's community and connection; yoga.
I am proud to be a part of Take Back the Night and adding my voice to the community choir of support, healing and defiance of violence and oppression. Let's console the victims, salute the survivors and stand with the warriors to raise awareness and bring an end to sexual assault and trauma.
Saturday, 11 a.m. Salute the Spirit and Heart.
Sunday, 11 a.m. Forgiving yourself and others.
Monday, 7:30 p.m. Empower and take charge.
Half the proceeds benefit Free Being Yoga Network and half will go toward Take Back the Night.