I first met yoga through a college course in 2005. I found the combination of concentrated movement and intentional breath both soothing and invigorating. At the time though, yoga only fit into my back pocket—a nice resource to reference every now and again, but nothing that fit into my busy lifestyle.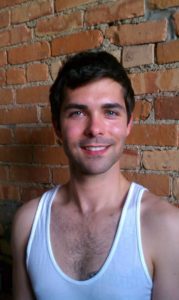 A few years later I rediscovered yoga at a free community class. At some point during the sweaty 90 minutes everything clicked. The rough patch that my personal life had been going through seemed more manageable. I accepted every square inch of who I was. Through the support of my teachers and friends, my practice developed both physically and spiritually. Eventually, I decided to pursue teacher training under Hilaire Lockwood at Hilltop Yoga — a decision that seemed both logical and intuitive.
Today, yoga not only fits into my busy lifestyle, but has also become a definitive component of my identity and spiritual life. I am deeply honored to share my practice at Just B Yoga. Yoga is so powerful, especially as we welcome the practice when our bodies need it the most.
I welcome all levels to my morning vinyasa class, linking breath, movement, awareness, and present moment. In the morning our bodies are stiff from sleep, and our minds cluttered with anticipation. Yet each moment seems to hold more potential.
I look forward to sharing the first moments of a new day together.