Constance Haywood is a Just B Yoga student, a grad student and a student of life!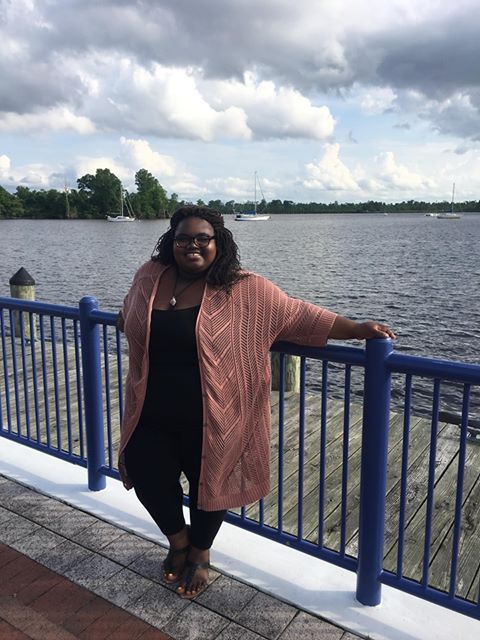 She's trying to keep her head and heart in the right place as she navigates the coronavirus pandemic. She's still working and juggling social distancing and self-care.
A lot is said about how the COVID19 pandemic is bringing out the best in us. It's also bringing out some wanton disrespect and ugliness.
Constance was cruelly taunted with name-calling as she walked her dog, doing the social distancing thing, recently.
Listen to Constance on the Just Being Podcast:
Hi Belinda. I hope all is well with you. I wanted to reach out just to share something with you. I posted about it last night, but I've had some time to think and meditate on things since them. So, I took my dog out last night to potty and when I did, my neighbors across the way were oinking at me from their balcony (a fat joke, clearly…lol). At the time, I laughed and flipped them off (I was a little annoyed — not too phased though), but then when I got back in my apartment all of these past traumas started to come back up. I recalled being a fat teenager on the cheerleading squad and football players making underhand comments, I recalled my freshman year in college and having some more athletes actually throw hot pizza at me, etc. In the middle of all of this though, I thought back to two things in particular — one of them being the blog piece you put on your website a while back. I remember it talked about you walking Karma and a man being aggressive towards you and you (essentially) meditating on the fact that people are so angry and tense in their regular lives that they lash out at others. Between last night and today, I've spent a lot of time meditating on that. And I want to say thank you.

My own health journey has had so many ups and downs, but I realize that when a lot of people see me, they don't see that — they only see what's on the outside. But I don't owe them anything. And no matter the wrong they might do towards me, it's too much of a burden for me to reciprocate that harm. So, this morning I wrote a note to my neighbors, packed them some brownies I baked out of isolation-boredom a few nights ago, and sat it on their doorstep. I'm telling you all of this because I want to say thank you.

Thank you for that post, thank you for the space that you've cultivated in the yoga studio and (especially) the 2eXceL class, and thank you for being such a bright light in the lives of so many. I'm finding peace in my body and myself and my life journeys and I'm finding such hope and joy in in being in your classes and feeling compelled after them to dive deeper into caring for my physical and spiritual self. Long story short, thank you for making the world better one namaste at a time.
Finding kindness in the COVID pandemic isn't always easy but offers opportunities for growth.
Constance definitely grew some compassion muscles.
Thank you for sharing, Constance.
Now, about those brownies….