I got the honor to join more than 1,700 people last week who are invested in building Michigan communities.
Building them, literally, brick by brick. Building our transportation. Building our image and vitality.
And, building our spirit and health.
The Building Michigan Communities Conference celebrated its 15th year with a name change that sharpens its focus and invites more parties to the table.
"Whether we're involved in the creation or preservation of housing, the provision of services to the homeless, the revitalization of neighborhoods including downtowns, providing funds or receiving funds, we are all trying to make Michigan's communities better places to live, work, invest, and play."
Previously the Michigan Conference on Affordable Housing:  Partners Building Communities, the conference is "the largest conference of its kind in the United States," according to its website.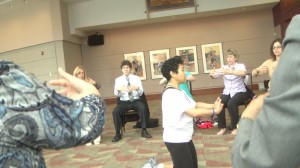 And for the first time, it included a focus on wellness, which I'm so honored to have been a part of making  happen.
I gave a presentation with Kaitlyn Skwir, a dietician, who also works at the Food Bank of Michigan on how to make healthy food choices and find work-life balance in a stressful environment. I also taught yoga, chair qigong and tai chi to attendees.
Many in attendance work at non-profits and are under extreme pressure, deadlines and tight resources in the face of great need.
Sharon Evans, of the Michigan State Housing Development Authority, who recruited me for the conference, wanted to provide attendees with information and practices to help them find wellness as they try to help build our communities, often one person at a time.
"I suggested during a committee meeting that we provide something about "We Care About You" such as workplace wellness because of the intense pressure so many of our non-profit partner staff is under with sequestered funding which has impacted our partner agencies, as well as the intensity of the services they provide such as foreclosure counseling which is very labor intensive," Sharon wrote in an email. "I saw this as an opportunity to incorporate a session which would/could possibly provide a tool to help them deal with and eliminate workday stresses."
Sharon's instincts proved right. People wanted help.
We arrived expecting 61 people who had registered for the workshop. More than 80 crammed into our session, many choosing to stand along the walls or sit on the floor because we were out of chairs.
They wanted help with stress from long hours. They had questions about back pain and eye strain.
One woman is having trouble sleeping because her mind keeps racing.
We led the session as an interactive conversation, so we could all share and have a conversation.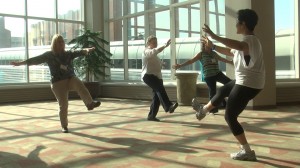 It was a great way to kick off that day's sessions. Ours was at 8:30 a.m.
Throughout the rest of the day I ran into people waving at me in the Lansing Center, "Hey B!" as though they've known me for years. They showed up in a big group for chair qigong.
Lori Lehmann attended every session I held. She did yoga at 7 a.m. and ended with tai chi at 5 p.m.
Lori works at the Sacred Heart Rehabilitation Center in Port Huron, that provides homeless services for women.
She said her supervisor encouraged her to attend the wellness sessions because Lori carries a lot of the stress of her job with her.
I left that day with a deep sense of connection with them on a level of service.
We can neglect ourselves the most when we feel that we're in the service of others.
Yoga and tai chi and meditation can and should be included with a seat at the table to Build Michigan Communities.
I'm passionate that yoga and tai chi studios and similar places have a role to play and even a responsibility to helping our own towns. There are six cities with emergency managers installed, amounting to about 9 percent of the state population without a democratically-elected leadership.
Our school systems are failing our children.
We have high poverty (17%) and high obesity.
Across the landscape we have towns in economic, educational, blight, and overall need.
As yogis and yoga instructors, building community – sangha – is what we do. That's the business we're in.  I hope to see more yoga and tai chi instructors and businesses represented at the conference next year.
Matthew Remski asked why shouldn't yoga studios be soup kitchens. I wholeheartedly agree and ask for more. Why not farmers markets? Community gardens? Food banks? Clothing closets? Community centers?
He's right on. We should be a "Community that reaches out as much as it reaches in."
Why shouldn't we be more than places were people roll out a mat and move their bodies?
[quote align="center" color="#999999″]What is community development and sustainability?[/quote]
Olivia Courant, with the  Community Economic Development Association of Michigan, said her organization provides assistance to other nonprofits around the state.
"The community development field is changing quite a bit. And so I think all of us are seeking to find our new role in what it means to create a sustainable Michigan community. We're all seeking to find our place."
"After what happened with our housing situation, we're trying to draws people back to Michigan. We are seeing some success in that area. We're trying to make our communities places people want to come back to… And that's where the sustainability comes from for us."
[quote align="center" color="#999999″]Opening up dialogue[/quote]
Eric Hufnagel, executive director of the Michigan Coalition Against Homelessness said a key part of one of his programs, Project Homeless Connect, is "a way of opening up dialogue and having engagement with people who may be at risk."
The program is a one-day, one-stop-shopping event that lets organizations get the word out about services on a wider scale and it's largely people who are at risk of becoming homeless who have the most to gain.
Eric said there's an estimated 94,000 homeless in Michigan from 2012 data.
"Beyond that are the people who are at risk of being homeless," he said. "And that's a much larger number."
Key factors are access to transportation and significant health crises in a given year, he said.
[quote align="center" color="#999999″]We all make up the community[/quote]
Edith Gibson, with the Michigan Disability Housing Work Group, helped facilitate a session on accessible housing. She said she noticed the lack of this topic in last year's session and wanted to make it happen this year.
"I was an intricate part in creating that panel discussion about making and maintaining vibrant accessible communities, how we can alter, create and find accessible housing throughout our state.
"That's very important to me because I have a child with developmental disabilities and some other impairments. So having accessible housing to get her in and out or having her be in a community ..is important."
"We all play a role in being a larger part of  society," she said. "I have people that have developmental disabilities that will come and help me with my daughter. Whether it's cooking or cleaning or reading her a story, they're not limited by their inability to do maybe walking.
There's a lot of people actually here at this conference right now that are in wheelchairs or some kind of mobility equipment but are just as vibrant and vivacious about advocacy for housing or special education advocacy than anybody else here in this room.
So we all make up the community."
[divider scroll_text="SCROLL_TEXT"]
I will be giving a presentation, Building Community with Yoga, at the Michigan Yoga Fest later this year in August. I hope to be able to draw upon some of what I learned at the Building Michigan Communities Conference to help engage us all in discussion and a call to action plan for yogis around the state to join us in building sustainable communities, open dialogue.