I went to my first Common Ground concert last night after living here since 2004, what a shame.
I went to support a local artist, Lyric'Lee, who opened for Morris Day.
It was a fabulous concert but I was most struck with the crowd. This was more than a concert. It was also a meeting ground for friends and neighbors. Hugs after long absences. Introductions to new family members. Chit chat catching up with one another between acts. I witnessed random acts of kindness in the line to the bathroom, on a path with someone in a wheelchair and just picking up a purse that had been dropped.
I thought about our 7-day passes to Common Ground and decided to switch up how to give it away.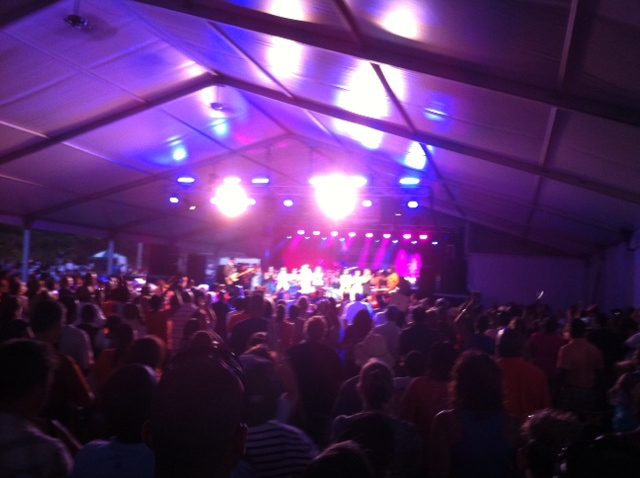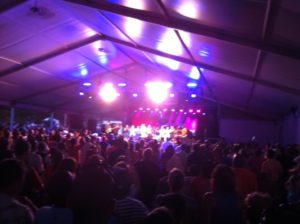 Finding Common Ground is the beginning of establishing a relationship built on mutual respect. If we don't see ourselves in others it's hard to build trust, empathy and understanding.
Just B Yoga strives to build common ground among yoga and tai chi students who are ultimately neighbors, friends and relatives,  in order to help facilitate new conversations to transform Lansing. We are donation-based, allowing for any and all interested to participate, removing the barriers of finances and status. We are located south of I-496 making yoga more accessible to those in south Lansing, removing the barriers of geography and/or transportation. We love working with others in our city like Reach Studio Art Center and the Lansing Derby Vixens, exploring what we have in common with one another – yes teen art and roller derby have yoga ties! This is how Just B Yoga finds common ground in our community.
How do you find Common Ground in your life? at work? in your neighborhood? What are some examples of how you've worked to establish common ground, either to get through a conflict or establish new connections? How has your organization benefited from common ground it either initiated or benefited from?
Share your common ground stories here or on our Facebook page. Fan our page and share it. Tweet it using #commonground hashtag and RT our post.
We will share all the stories and select a winner for the two (2) 7-day passes to the remainder of the Common Ground music festival. We will choose a winner by 2 p.m. Thursday, July 12 (for real).
Maybe your stories will inspire more unity, collaboration and #commonground.
Peace.
B