It has taken me decades of life and arriving in Lansing after working at more than six newspapers to truly feel and be a part of community.
This isn't a gratuitous #lovelansing moment (although I love you guys, and you know that). I hope it's a touch deeper.
I have spent most of my adult years as a journalist in small, medium and large towns. I've participated in covering everything from Shuttle Columbia exploding over Texas to non-profit fundraisers and human-interest stories about community underdogs.
As I've grown older I'm realizing that the everyday stories are the ones that matter. These are the stories that touch the ground and the heart. Don't misunderstand me, journalism can be a noble profession and a free media serves a vital role in community, but it's always an arm-distance away.
I'm learning while I could express empathy as a reporter to get the story in the interview, I never truly felt the emotion or situation the person was sharing. If I had, I would have put down my pen a long time ago.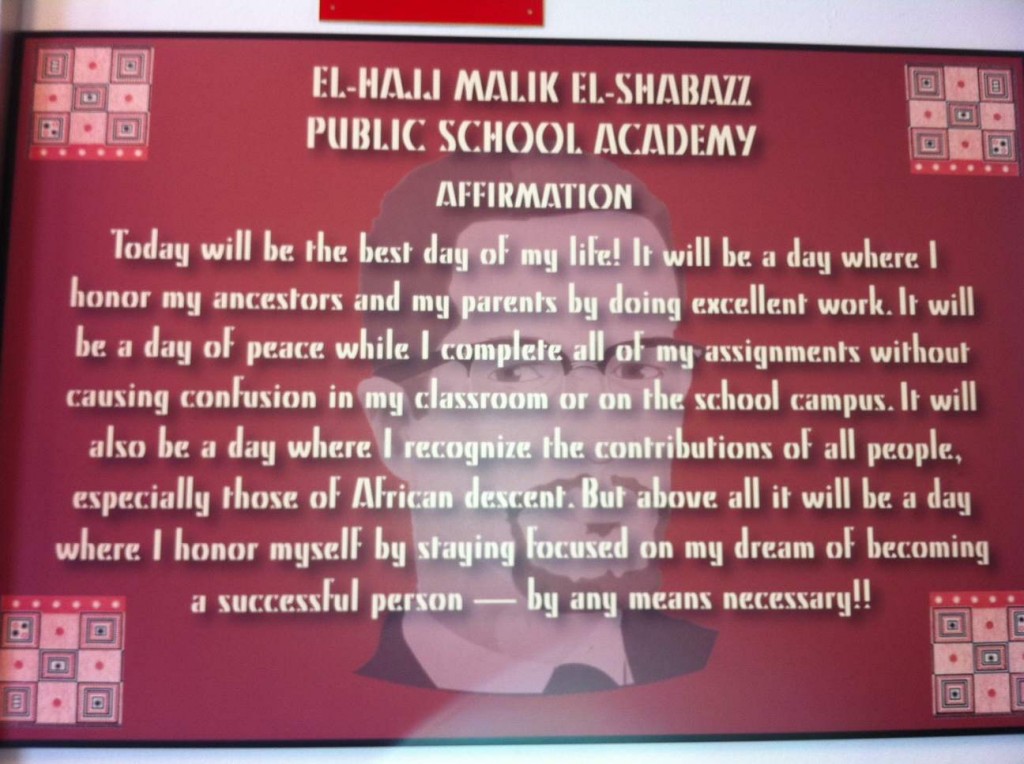 I walked into the hallways of the Shabazz Academy this week to the buzz of kids as they headed back to class after lunch. Posters of their art dot the walls. A nostalgia about my own school days brings a smile to my face. The sounds and smells of school are the same no matter the when or where.
I was there to give a check to the administrators that were raised from Just B Yoga's fundraiser at the REO Art Alley art gallery last week.
Through your donations and contributions we gave $350 to one of Lansing's premiere charter schools.
As I was writing the check and chatting in the office I was struck with the importance of the act and the role our humble yoga studio is already playing in the community in such a short time. This is money that will go to help kids succeed. These are kids in a town and  a state who  most have written off before they've even started. I feel like I've been there. I graduated high school in D.C. in the 80s as crack cocaine was tightening its grip. My family was determined for me not to be a statistic.
Contributing this nominal amount of money was an opportunity to give something back. Shabazz was also determined not to let Just B Yoga fail. The school believed in our mission and gave us our first space to share yoga, providing our launch-pad.
"You're bringing yoga back to the gym, right?" I was asked.
Wow. I hadn't even thought the school missed us. We took over the gym from 6:45 p.m. until 8:15 p.m. and needed to often call someone to lock it up afterward. I felt like we were more of a nuisance than a blessing.
But they liked having us there. Smelling the incense. Hearing the music. Seeing people walking to the school with a yoga mat under their arm.
I assured them that Just B's Yoga Around Town will likely return back to the gym soon, where it all began.
I walked down the stairwell to leave. A line of polite 3rd or 4th graders filed passed me. Some continuing to giggle and joke. Others stood upright as they passed me. I saw light and life in their eyes. I saw myself many years ago. I saw the promise of a future.
I am no longer on the sidelines of my community. I'm in it deep with both feet.
I'm not just sharing a link to a story on Facebook. I'm in it. Feeling it. Being it.
What does this have to do with yoga?
What does it not?