Caller: "Hi, how much are your classes?"
Me: "We're a donation-based studio. Our suggested donation is $8 per class. Some people give less, some more depending on their circumstance."
Caller: "Oh, so it's free then?"
Me: (Pause) Sigh.
Three years ago, I had no idea what Just B Yoga would become.
Call it an experiment, because that's how it feels each day.
I just wanted to offer yoga and tai chi at an affordable price and in the inner city. Don't let the "just" imply simple. It's anything but.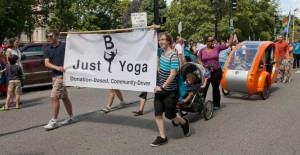 I had seen the benefits yoga, tai chi and meditation can have on the body, our emotions and stress, our minds and focus.
Just as there are food deserts in the inner city – areas where fresh produce isn't available – there are health and fitness deserts too. We need walking paths, bike paths, movement centers, not just dollar discount and liquor stores.
I didn't want price to prevent people from finding a healthy and whole self.
I felt so passionately about our mission and the work we were doing I quit my professional journalism career to dedicate myself to Just B Yoga full-time. I am excited at creating community, creating a new commerce model and staying true to the principles of Buddhism, yoga and tai chi that I've been a disciple of.
Almost 10 years ago I remember my sifu arguing with me about offering my teachings for free. I lived in Dallas at the time and I wanted to do free tai chi in the park. Then I wanted to teach free tai chi in a community center.
She felt I cheapened the art and in fact disrespected it by offering it for free.
I thought she was being critical of my desire to help community.
That wasn't it at all, she wanted me to respect myself, my training, the lineage of my practice. She also believed I should be teaching that respect to my students and if I was teaching them it was worth nothing in terms of money then it was probably worth nothing in terms of energy and spirit.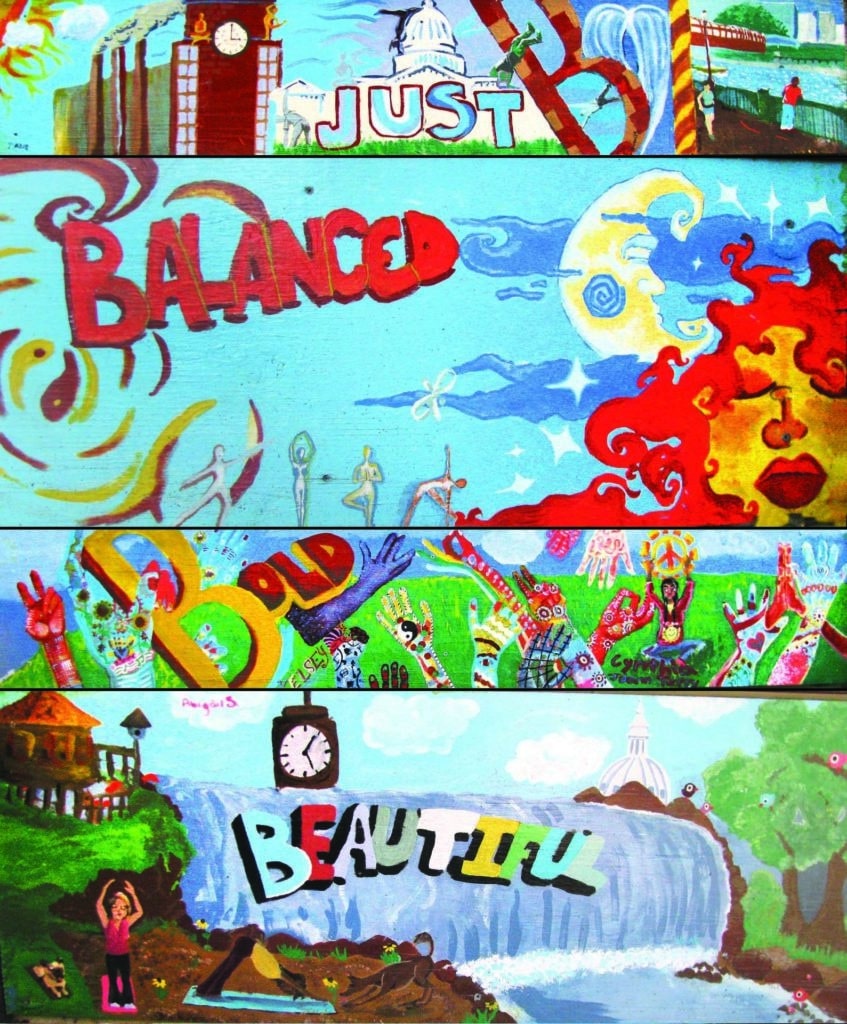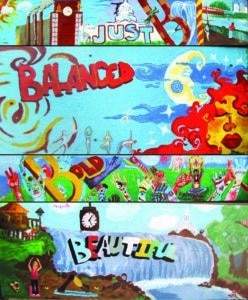 She was right.
The recent phone call made me remember this time with my sifu and made me reflect on how Just B Yoga is perceived in our community.
Are we the "cheap" yoga studio? The discount, bargain basement place?
People ask me all the time, how's the donation-based model work? Or, is it working?
This year we started using a computer management system that allows us to pull metrics and reports easily. So I want to share with you what the numbers show and what we've experienced.
Because we build it doesn't mean they'll come
We are the only yoga studio south of I-496 within the city limits, and we're donation-based.
Boom! We should be packed, right?
I wish.
The primary aim of Just B Yoga is to make yoga and tai chi available for those who wouldn't normally be able to afford the going studio rate ($15 drop-in) or who don't have access due to location, transportation or perception.
And while we have eliminated those barriers, our rooms are not full for every class. Wednesday night Empower and Hip Hop Power on Friday and Yin & Yang Yoga on Monday night draw the most donations and students.
Our largest class however is our weekly free yoga class. It often fills up and we need to turn people away. It's been held on Wednesdays for the last three years. It will be interesting to note how attendance changes in that class since we moved it from a weekday evening prime time slot to Sundays at 4:30.
Even so, many of those in that class can afford yoga and are regulars are other yoga studios around town. Some are college students trying to stretch their pennies. Some found us in a newsletter or newspaper listing and tried us out for the first time – no pressure. It's free.
In the end, yoga and tai chi are disciplines that require practice.
If it were easy everyone would do it – whether they have means or access or no.
What's the average donation?
The figures below reflect the studio business from March 1 through Aug. 31
[column col="1/4″]DONATION[/column][column col="1/4″]PERCENT[/column]
[column col="1/4″]$8[/column][column col="1/4″]36.25%[/column]
[column col="1/4″]$10[/column][column col="1/4″]26.4%[/column]
[column col="1/4″]$0[/column][column col="1/4″]19.57%[/column]
[column col="1/4″]$5[/column][column col="1/4″]9.82%[/column]
[column col="1/4″]$20[/column][column col="1/4″]2.18%[/column]
[column col="1/4″]$15[/column][column col="1/4″]1.4 %[/column]
Attendance avg. 5 people per class
Revenue avg. $34.57 per class (not counting our unlimited monthly memberships)
Donation-based, not "cheap"
From our numbers, I think the Just B Yoga students are showing that they value what we have to offer in their giving.
More than 30% pay more than what we ask.
Almost 40% give the suggested rate.
About 14% pay something.
The numbers show that the majority pay for and value what they receive. They don't see us as "cheap."
Our teachers are some of the most mindful, skilled and experienced yoga teachers I know. We take the safety of our students – physically, emotionally and spiritually – very seriously. We teach yoga that helps heal and strengthen without inflicting more harm.
Are we helping those we want to help?
"Give me your tired, your poor, your huddled masses yearning to breathe free…"
This could very well be on a plaque at the studio and not just the Statue of Liberty.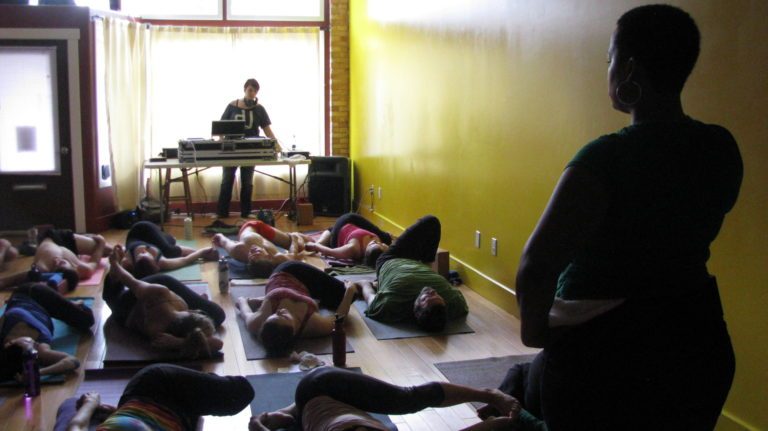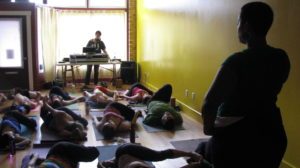 Anecdotally, I have students who are homeless, unemployed, in drug rehab, recently released from prison. We have students who are transgendered, obese and who have special needs.  We have domestic violence and sexual trauma survivors, refugees and war veterans.
We feel a deep connection and bond with our students. We are honored to have earned their trust – yoga invites vulnerability. We respect them for their brave journeys and do not take their trust for granted.
I'm lacking current demographic data immediately to give precise information. I will be working to pull that information soon.
What is accessible is our digital data.
My quick analysis of our website traffic and social media metrics shows a more affluent, white female audience.
And while we might say that's not our target audience, we do need them. I like to call it the Robin Hood effect. We rely on those who have means and finances to help subsidize those who don't.
We need those who have means and are driven by social action and conscience. They help spread the word, they help pay the bills to make it possible for us to serve those who can't pay.
We're a cross between a social service and a yoga studio, that requires us to tell our story in a compelling way. Tell our students' stories. In that telling the community sees who they are helping and why. They are inspired to help.
Does that mean we don't have people who don't "take advantage" of our kindness. No. Of course not.
I notice people who have come to the studio for years and never given a cent. They drive on their own, they have jobs. I struggle with how I feel about it. But in the end I know I'm committed to offering classes to everyone. And if there are a few who have the ability to contribute and don't, it's an opportunity for me to practice non-judgment and loving kindness. And maybe their practice of yoga with us will be of benefit to them or someone else in their lives.
As we move forward and try to grow to ensure we can continue to provide yoga service in Lansing, we will keep an eye on the numbers and the trends across the country. I hope and pray we can make donation-based, community-driven succeed as a model that can be replicated.
This article in It's All Yoga Baby hit the nail on the head. While mission-driven yoga is starting to grow, it's also still deeply invested in some of the trappings that make yoga elitist. We don't want to grow celebrity teachers. We don't want to be a yoga meat grinder, packing people on top of people.
What do other donation-based studios do?
That's interesting and I've been trying to reach out for years!!
I have found many close after two years. Those that stick it out haven't really been eager to share the secrets to their success. I don't know if it's competition or they just don't have time to respond. (I know how that goes).
I have emailed several yoga studios across the country for the last few months but none have had time to talk on the phone or have an email conversation of any depth.
There is one outfit in Rhode Island, Yoga By Donation, that has been around for quite some time. They seem to prosper with a very full schedule of classes (like 40 a week!). Overhead and paying teachers is the main challenge financially.
What's interesting is that they publish their donations every month. Just B Yoga may start to do that as well.