Ever thought about the children in Haiti and wish you could help?
Now you can, by supporting FONCUS, through this year's spring break Michigan State University-Wesley Student Mission Trip!  WE NEED BACKPACKS AND SCHOOL SUPPLIES!
Most of you know me, Kathy Martin, I have worked at the Just B Yoga desk and been in classes with many of you.  March 6th through 14th, I will travel with a Missionary Team of Michigan State University Wesley Students to Haiti  One of our goals is to support  the local elementary school of Croix des Bouquets, sharing our lives and cultures with the children, teachers and families in that community.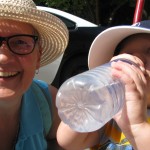 We will be working with FONCUS, founded by Rachelle Elien, who was recently a Humphrey Scholar at Michigan State University.  You can search for FONCUS on Facebook and gather more information about this young organization and its initiatives.
We will participate in a variety of ways with the elementary school of Croix des Bouquets. We want to support the children in their learning journey.  We will take books, and work directly with the children,  Very little financial support has been found this year, and the children need basic school supplies, as the school provides no materials for the children.
HOW CAN YOU HELP?  DONATE A BACKPACK OR ANY OF THE LISTED SUPPLIES RIGHT HERE AT JUST B YOGA!
If you wish, you can get a backpack and just fill it with these supplies:
Backpack (child sized, say K-8th grade) with these items:
80-100 sheet spiral or flat bound notebook of lined paper
small notepad, lined or unlined
package of pencils (10-12)
pencil sharpener (hand sharpener, not a large one)
eraser
6″ ruler
toothbrush and small toothpaste
washcloth
Bar of soap
Any donation is appreciated.  We will transport all donated items to ensure they arrive at their destination.  If you feel it best to make a monetary donation, give it to the yoga instructors, and I will use the money once we arrive in Croix des Bouquets to purchase additional needed items
I will make a final pick up at Just B Yoga on Thursday March 5 about 7:30 pm. Thank you very much for your help giving children access to education in Haiti!