This Sunday we will be celebrating Just B Yoga's third year in business, providing healing practices and sharing community with Lansing.
We're holding an anniversary event, called Refuge in the City, Celebrating Harvest and Community, this Sunday from noon until 6 p.m. at the Moores Park Pavilion.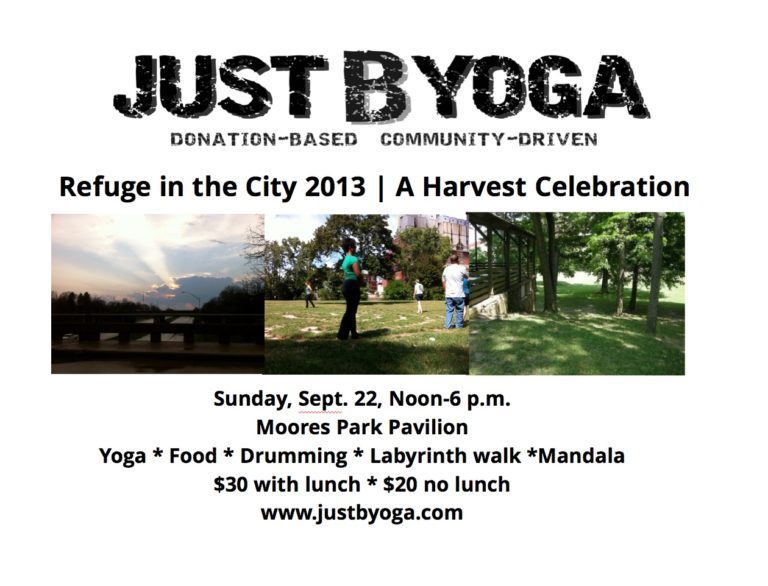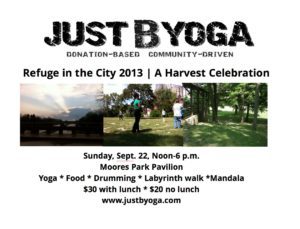 We live next to an amazing resource, Moores Park and the Grand River. Why not honor our natural resources and our own backyard, so to speak?
Finding appreciation, peace, beauty right where we are is what it's all about in our practice, right?
We learn to be comfortable in our own skin today – not in love with our future selves.
We learn to be OK with our yoga poses and how they feel from the inside, not what they look like on the outside.
We find an inner beauty, not shaped or dictated or influenced by the distractions of the outside world.
In the last three years we've been learning to do this as a studio.
We hope the community doesn't judge us by our cover (whether it's the street construction, our actual building or the parking limitations).
We try to showcase the beauty of our students and neighbors and their talents.
We want to grow community right here in our backyard, rather than transplanting it from elsewhere.
Thank you to you all for your wonderful support and embrace of our mission. Thank you to our teachers for sharing in this vision and sharing your energy and talents. I am truly blessed to have your faith and support and encouragement.
We've got a lot to celebrate. We've had babies be born, organs donated, gardens harvested, graduations, awards, and new friends join our family.
This demands celebrating in a big open space. And we want YOU to join us.
Sunday, Sept. 22 – regular classes are suspended for Refuge in the City!
Noon – Opening ceremony – Drum Circle
12:30 p.m. – Empower Yoga flow
1:45 – 3 p.m. Blessing/share/reflection  – lunch
Drumming and music during lunch
3 p.m.  – Labyrinth walk
4 p.m. – Mandala – let's make a mandala and wash it away into the river!
5 p.m. – Fire bowl Gratitude Ceremony
COST:
$20 no lunch/$30 with lunch