We are happy to announce Just B Yoga is offering a family yoga class for mom, pops and tots (10 months to 5 years) on Tuesdays at 3 p.m. starting June 24.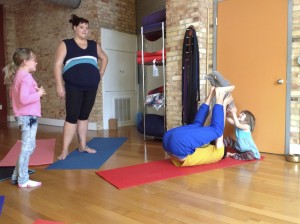 Yoga as a family is a great way to connect and bond. Yoga means union. Connecting in body, mind and spirit. What better way to create bonds together than moving and breathing and finding quiet space together? Falling, laughing and celebrating together?
This class will be fun and lighthearted with games that involve breathing exercises, sound therapy, meditation and movement.
There will be poses to do together and individually. Postures to celebrate the young people's abilities and growth and the grown ups.
The suggested donation for this class is $10 per parent/kid pairing.
We recommend a one-to-one parent-kid ratio.
The class is taught by Belinda Thurston, owner/founder of Just B Yoga.
SIGN UP (GO TO SCHEDULE, CLICK TO THE WEEK OF JUNE 23)
This class will remain on the schedule as long as it gets support with attendance of at least four parent-child pairs each week.