This month Just B Yoga is 2 years old!
Thank YOU Lansing for helping us make this very special milestone. We know we wouldn't be here if it weren't for you. Each student who comes. Each student who likes us on Facebook.
So all month we will have a special contest.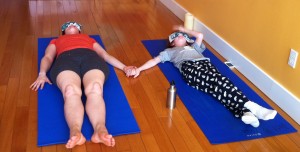 Bring a friend to win!
Bring a friend to class to enter yourselves into a contest to win a Just B Yoga gift pack that will include:
A monthly unlimited pass at Just B Yoga
A one-hour massage from one of our massage therapists
A Just B Yoga mat
The RULES and FAQ:
The person who brings the most new students by the close of business Monday, Oct. 29 will win.
The friend must not have been to Just B Yoga before.
Workshop referrals will count as two entries.
Put your name in the bowl when you come to class with your friend. This is how you enter.
 You MUST be present with your friend at class.
Yes, you can bring more than one friend at a time to class.
No, you can't share a friend with another Just B Yogi
Yes, it works for tai chi or meditation
Friend must be 18 or over.
The friend you brought can enter the contest themselves and beat you at your own game. (Just B Yoga is not liable for feuds that may erupt as a result of this contest)
Just B Yoga teachers are not eligible
We will write a blog post about the winner and splash their photo everywhere!
Stay tuned for more ways we will be celebrating our anniversary this month. It will end with a BANG!