The  Lansing Beer Fest is this weekend and it's in our backyard!
This is a notice for our students that you'll need to take a detour to come to the studio because Washington Avenue will be closed for Lansing Beer Fest on Saturday from 1-6 p.m.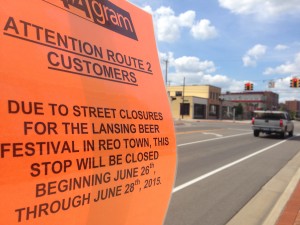 Take Cedar to Mount Hope or use Martin Luther King to Mount Hope.
OR
Ride your bike or walk!
And when you're done with class stroll down to the festival, which is only a block away.
Support local breweries and restaurants. And there's even a designated driver entry for those who don't want to drink alcohol.
One of our favorite local establishments that's community owned is Sleepwalker Spirits and Ale.