I grew up with the expectation to not let it show when something bothered me or hurt me.
I can still hear my grandmother and her gal pals sitting on the front porch.
"Can you believe that was going on all that time? You would have never known. She never let it show."
The thing that could have been happening? A cheating spouse. Someone died. A family member getting arrested. Losing the house. Losing a job. Being in debt. Getting a bad review at work.
You get the picture.
Not letting it show meant:
dressing to the nines
not gaining weight
stiff upper lip
not crying
not getting mad
keeping  "perfect" hair
keeping the house perfect (or don't let anyone in)
spend money on others and be the big shot
working to the bone
not dropping any chores or responsibilities, in fact taking on more
That conditioning is deep for me.
I have walked through life masking, pretending, concealing what I'm really feeling, possibly thinking to not burden others; but ultimately I super-burdened myself with the weight of the feelings I was ultimately masking from myself.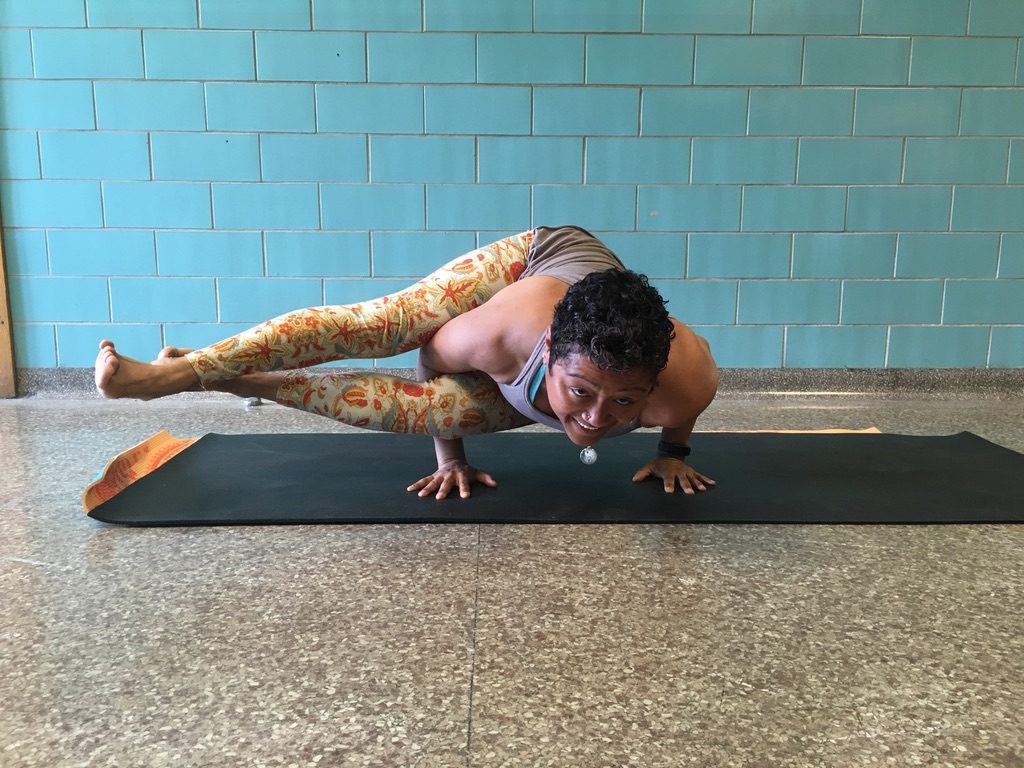 Yoga is a practice of "letting it show."
I don't mean showing off.
I mean let what's going on inside really show, and feel it.
In a one-legged pose I am learning to let falling show, wobbling show, a burning pain in my leg show. All of it, first of all, shows itself to me. Then I get to see my reaction to it.
The falling and being seen falling makes a jerky tightening happen in my chest. The wobble makes me remember being made fun of as a kid when I didn't know how to do something. The burning pain makes me mad that I'm feeling it because I actually believed if I "don't let it show" then I actually am not feeling it.
It's not just aspects of practice in the body that are painful or uncomfortable that we get to explore "letting it show."
The goofy silly stuff used to make me cross my arms. It seemed like it was diluting the practice. It felt like it was "kid stuff" and therefore immature or beneath me.
But rolling out of a headstand attempt in a somersault can make me feel clumsy, out of control, fat and pudgy, heavy. When I get to let that show it gets to transform from out of control to whimsical and carefree. When I get to practice letting it show it can go from clumsy to creative or expressive. Letting it show can help me find the playfulness in the imperfection and ultimately, that's the yoga.
Playful imperfection is a wonderful way for me to look at compassion and forgiveness and resilience.
Letting go of "not letting it show" can be a practice of slowing down and looking at one thing I don't like to let show. I shine light on it and see it for what it is and how it's making me feel. I hold it and let it show.
Then the equal part of the practice of "letting it show" is "letting it GO!".
Not letting it show is not letting it go. It's just hiding it. It didn't go anywhere except into an abscess of my body-mind-spirit where it's causing infection.
When I invest so much energy in trying NOT to show something is hurting or bothering me or confusing or joyous, I block myself from my truth and the truth of Spirit/God/Universe. It will block me on the mat in my body from opening and lengthening. It will block me in finding a freedom of breath. It will block me in meditation from sitting in peace.
Letting it show is authenticity and it's scary and beautiful at the same time.
I'm going to try to get comfortable with letting it show today.