We asked you all…nah, we DARED you all to #JustBringIt to our debut open mic last Friday.
WOW.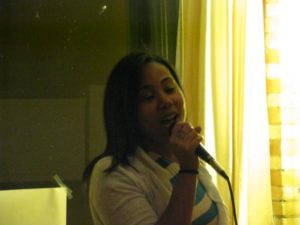 We had about 40 people come to the studio to enjoy an evening of talent, sharing, emotions, laughter and fun. This event showed me not only how much talent is out there but how much it is DESPERATE for a venue. Poets, instrumentalists, vocalists….many who had never come to the studio for a "yoga class." But you know what? They still did yoga on Friday with us. They came together with us to share and connect with one another.
I can't wait to see how next month's event unfolds.
But for now I leave you with some sharing from the evening – some video (poor but we'll get better) and a copy of a poem I wrote and spoke.
Will Metz on Saxophone

Linda Flanagan gets her flow on

THE Rina Risper.

"My Skin" – Belinda Thurston

Don't tell me how to wear my skin
How loose it is
How tight it is
How pretty (or not) it is
How dark or light it is
It is mine to wear and care for
It is mine to find myself in
It is not yours to define me by
Don't tell me how to wear my skin
Don't tell me what it means to you
Don't tell me what it reminds you of
Mexican?
Asian?
Filipino?
You got some black in you?
Don't tell me how to wear my skin
How it tells you how I should talk
How much money I should make
The way I should walk
How smart I should be
The music I like
Who I should be hanging with
Don't tell me how to wear my skin
What you think about the history behind it
The races that came together to make it
Whether you call it mixed
Mulatto
Blasian…Mutt
It's not your skin, not your business
So shut the fuck up
Don't tell me how to wear my skin
How one group will love me or hate me
Because history told you or it's just your dime-store opinion
How I will be shunned, envied, cursed
Favored, Rejected, Accepted
How can the skin God gave me be bad?
This is my jacket to try on
To fit into
To make look good.
Don't tell me how to wear my skin
How proud or ashamed I should be
What loyalties you think it makes me owe
To a movement a struggle
To a people, a tribe or clan
Maybe there's something in my reflection you think reminds you of you
A feature in the face – eyes, mouth, cheekbones
Maybe we're a shade away from one another
The hints of the Himalayas,
echoes of West Coast of Africa,
A memory of the Mayans
A drop of the Caribbean?
Maybe we are akin to one another
But that akin-ness gives you no hold on me
To dictate or Discriminate
It gives you no hold on me
To trick me and hold me hostage
With false promises of oneness and unity
Of "I got you"
Cause once the non-you in the reflection surfaces, I'm less to you
I'm foreign to you
I'm separate, isolated

That thing in my skin that reminds you of you
Can it not help you love you? Can it help you love us?
In an appreciation and acceptance of the We-ness? Of us?
Why does it have to be something to change in me?
Why does that little bit of you  you see make me less me?
Don't tell me how to wear my skin
How loose it is
How tight it is
How pretty (or not) it is
How dark or light it is
It is mine to wear and care for
It is mine to find myself in
It is not yours to define me by