Bring your infant-toddler to Just B Yoga and let's get creative in finding yoga together.
This class welcomes a parent with up to two (2) little ones (birth to age 4) to come in and have fun exploring movement and breath.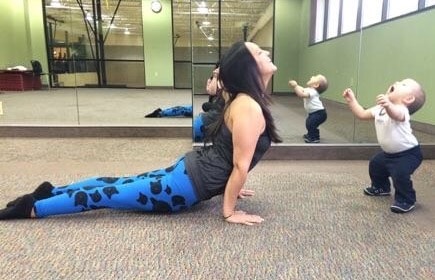 Feel free to bring a baby carrier, small bouncy seat, quiet (soft) toys or books for your little one as they may want less mat time than you.
This class will be taught by Monica Pino and her 1-year-old son, Evan!
Tuesdays, 10:30 a.m.-11:30 a.m. | 4-week series (Feb. 9-March 1)
Early bird, $48; $60 after Feb. 5 (email [email protected] for scholarship information)

Drop-in: $15
Class limited to 8 parent-kid teams; Min. 4 parent-kid teams to start the class.
From Monica:
"As a mom of three children I know how tricky it can be to squeeze in some time for yoga. Sometimes my yoga is in my living room, surrounded by blocks and cars and books.
Sometimes it's on my bedroom floor while my baby is napping (if I'm lucky) and sometimes it's closing my eyes and finding breath while my little one lounges in my lap. I'll tell you though, I find my yoga and the benefits always exceed the effort.
Let's leave any worries at the door, get together in a pressure free zone and have a little fun with this practice.
My son is one year old and already recognizes and mimics postures and even some breath work. It feels so good to introduce the little ones to such an amazing practice."