If anyone was going by the studio window around 9 a.m. this morning they probably did a double-take.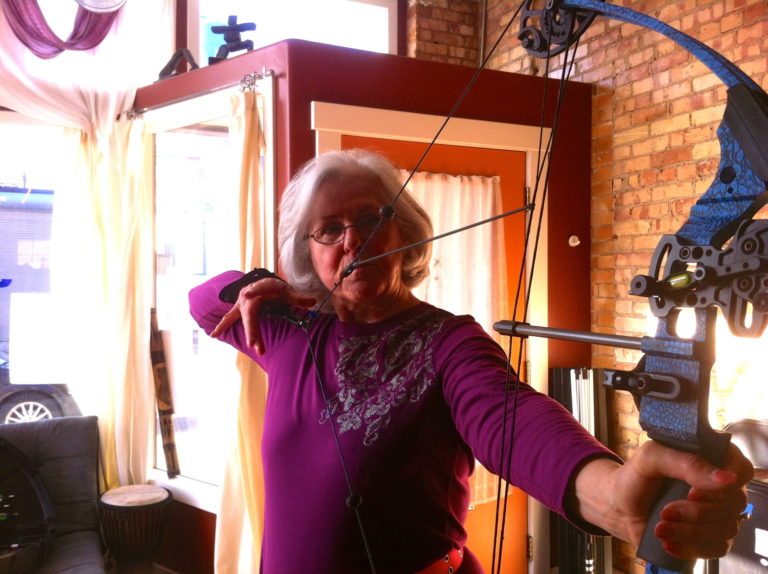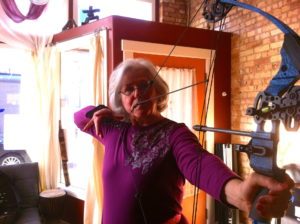 Tai Chi student Linda Triemer brought in her archery bow for a show-and-tell moment.
I am in love with her spirit AND her toys!
Linda began archery this past winter and has quickly fallen in love with it and excelled.
The compound bow she has is a Mission Menace. It's alligator blue and beautiful.
She almost had me in love with the idea of joining the sport. I love activities that have stuff! (I'm an avid flyfisher and you don't want to know how much gear I own).
The sport of archery involves precision and care, strength and poise, (sound like tai chi?) and then you can accessorize!
What's not to love?
She shared fun lingo and terminology like the "whisker biscuit," the "kisser button" and her "peep."
She's got a quiver (with a hot pink belt!).
She even pulled "Arrow Snot" out of a pouch on her quiver bag. Now that's a conversation starter!
But aside from my love of her toys, I love Linda's spirit and her embrace of the sport.
It's no joke pulling that bow back. I tried it. It made me work!
She says tai chi has helped her archery (and her golf). Staying calm and rooted helps her focus and aim.
There's not much effort in the arms, she said, instead it's in the back.
I can see easily how the tai chi practice helps her find a peaceful spa  in her mind and body for archery.
She extends her practice into so many aspects of her life, but she says embracing the empty space (wuji) has been particularly helpful.
I think tai chi has also helped her embrace play. We say we "play" the form, we "play" tai chi.
Linda is a great example of someone who knows how to and enjoys play!