Lately some of the calls to Just B Yoga have had a similar theme: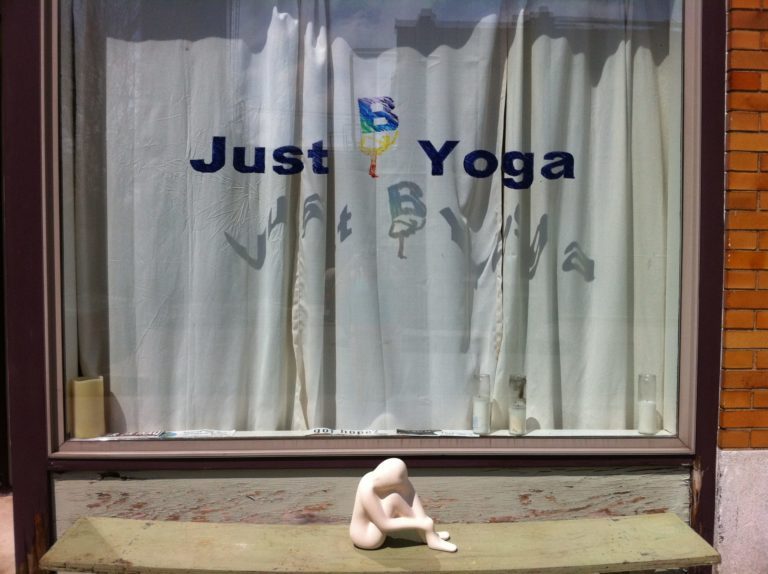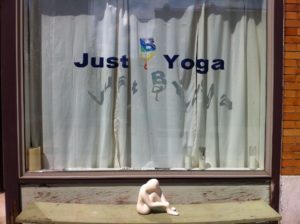 "I don't think I'll be comfortable there."
"Will I be safe?"
It's been a difficult one to respond to without having a defensive edge in my voice. It's also been a sad reality to face about how we're perceived.
The Just B Yoga studio is next to a junky old car lot with smashed out windshields, flat tires and missing parts. Quality Dairy semi trucks make tricky three-point…no, often five-point reverse parking jobs several times a day in front of our window. Most of the store fronts along Washington Avenue as you head toward our street are old, run down, blighted.
There's an active train line not 100 yards from the back door. The three cooling towers from a coal-fired power plant – BWL Eckert Station – loom high above.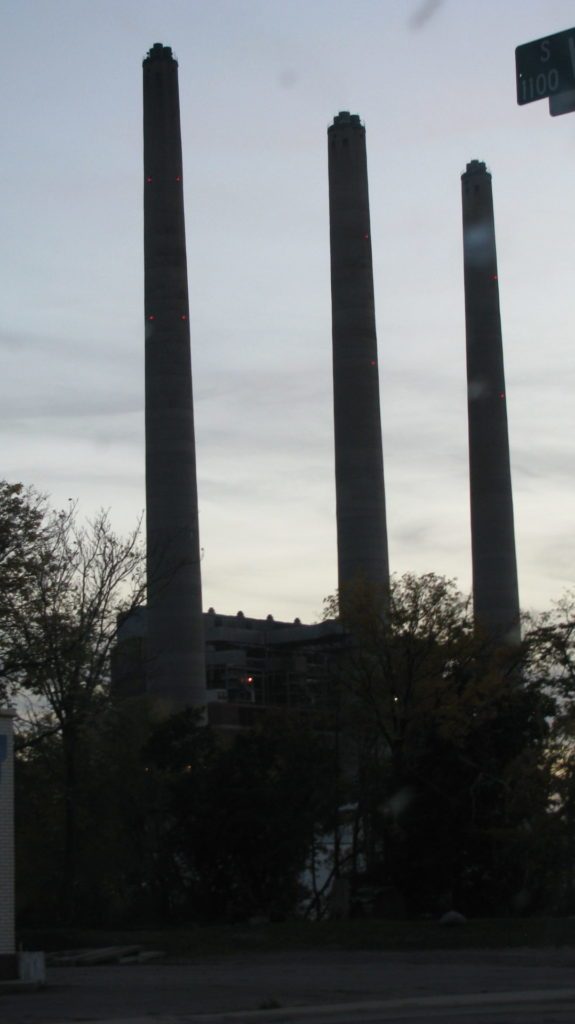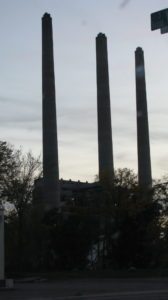 Welcome to our neighborhood.
There's no ornate landscaping, no freshly-paved asphalt parking lot. There's weeds in the sidewalk I try to yank up. And oh, yeah, there's a party store a few blocks down.
We are  south of 496 and our buildings carry the wear and tear of the declining economy that's been strangling Lansing and that apparently means we're in a "bad part of town."
But there's been no stabbings, shootings, armed robberies or rapes that I can recall in the last year. There's been no meth lab busts…and the medical marijuana place is a whole TWO blocks away!
Still the perception is that we are in a "rough" area.
106 Island Avenue found Just B Yoga. We weren't looking for space. The universe presented opportunity and we took it.
We've got really great neighbors who are happy to smile and tip their hat at the yoga people as they go in and out of the studio.  The kids around the way have dropped in curious about "what is tai chi" and "can kids do yoga too?" And if you spend a moment talking to the owner of the car lot on the corner you find a sweet, generous man under a rough (and loud) exterior.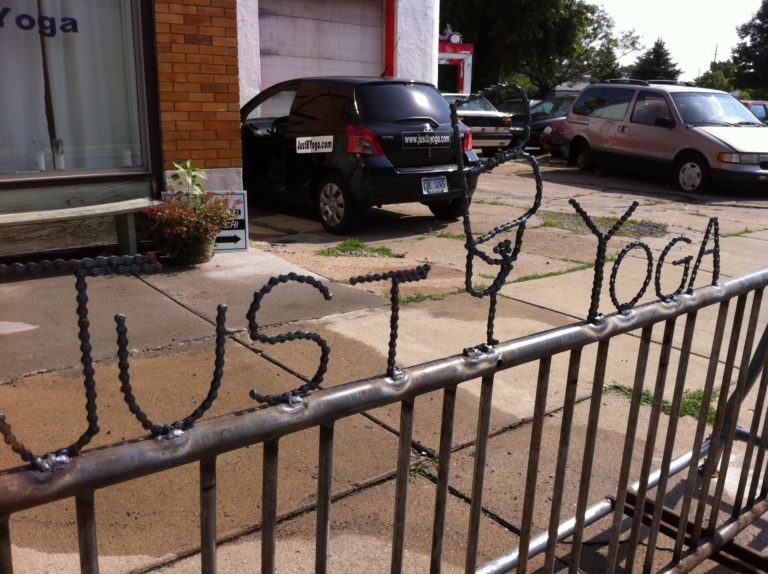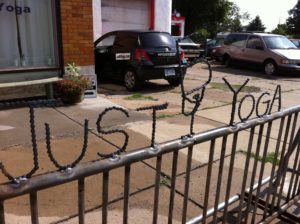 In the year that we've been here, there's been one act of vandalism that we all chalk up to kids being reckless, not mean-spirited.
Maybe we are in "da hood" by some standards, or at least by the general perception of Lansing. But where I come from, my "hood" was where people stuck together. We held fast to fight off drugs and crime. We celebrated each other's successes. We planned how to revitalize – even if it was potted plants and window shade.  We shared food and clothes, when someone else didn't have them.
"Was it safe?"
I'm not naïve. I have friends who've died in city/street violence. I know Lansing is struggling with violence and crimes of desperation. But I also know it's upon each and every one of us to deny the perception of bad to corrupt the good of the seeds we plant.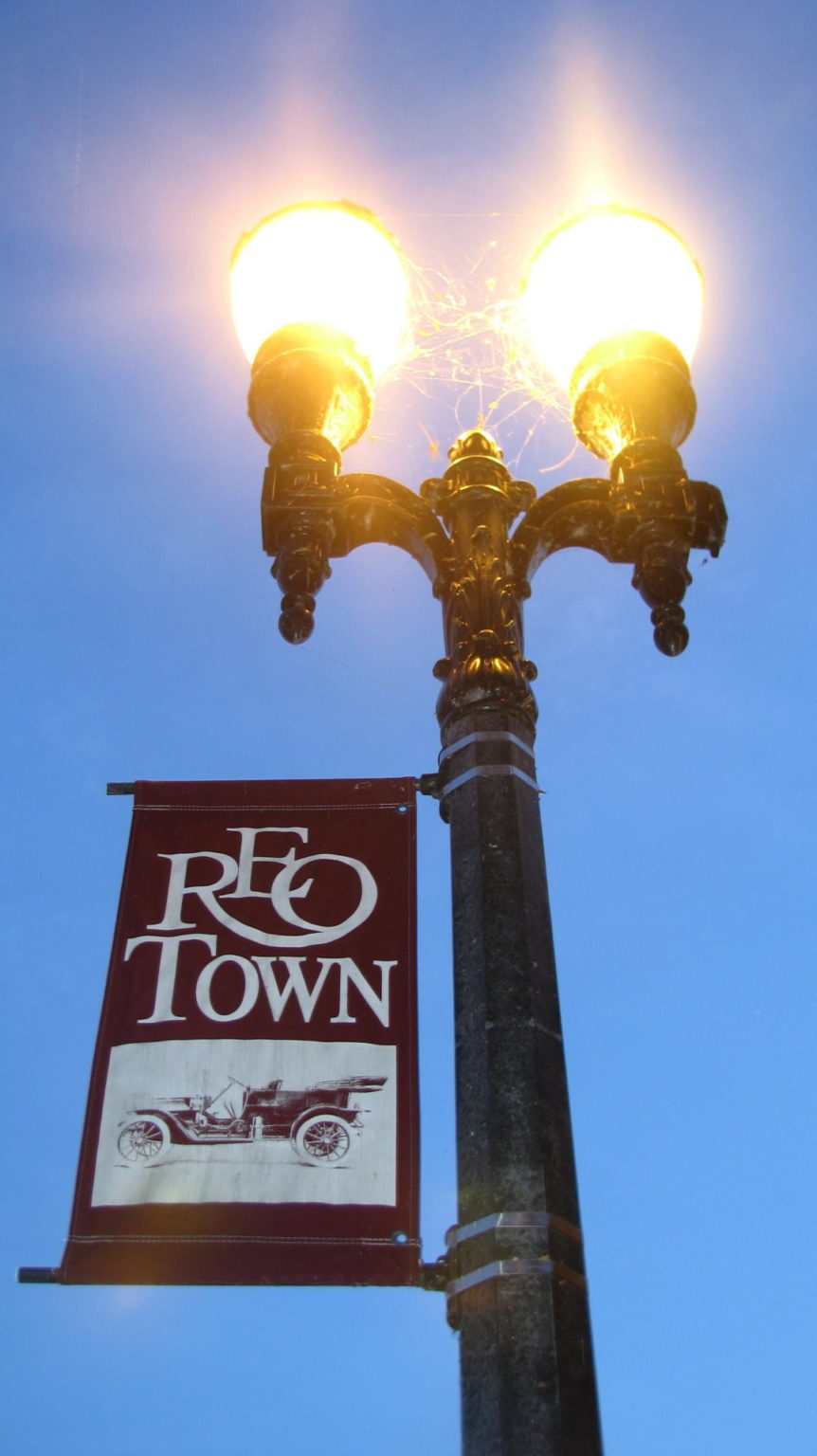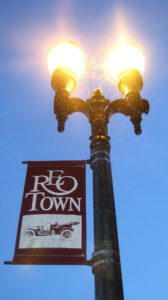 So if you're thinking of checking out Just B Yoga for a class, we hope you come. We hope you peel through the layers of perception and step through the doorway.
Inside you will find a warm space of practice and loving community, because that's what we are.
And if you feel you can't take that step because of what you see on the outside, maybe you're not ready to practice yoga, and not just with us. Because if you're not peeling away layers in your yoga, you're not practicing.
(Photos of the inside of the studio were deliberately not posted. There's plenty in other posts if you search. But we'd rather you drive over to our side of down and roll out a mat instead)