Did you know Just B Yoga has cool stuff?
Well, we do.
And if you're a gift-giving type or know who someone who's a gift-receiving type, we might have something right up your or their alley.
Visit our ONLINE STORE or come to the studio to shop!
5 FOR $5
Lansing Loves Yoga note cards (pre-set gift card sets or mix and match your own at the studio)
Unique, Lansing-made and Lansing-proud blank note cards.
Photos shot by McShane Photography
Singing Bowl chakra tune-up CD, $7.55
Bring balance to your energy centers with the ringing of crystal singing bowls.
Produced by Just B Yoga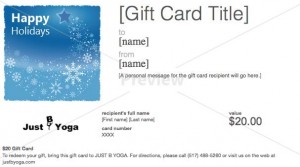 E-gift cards
Give your loved one a gift card for classes or merchandise at Just B Yoga. Preset amounts or set your own custom amount.
Just Be Sustainable, $12
Baby wear
Hungry Being bibs, $7.20
New Being rompers, $10.40
(designed by Eddie Lahti)
Ladies
Tank tops, $18
(designed by Eddie Lahti)
Men
Sleeveless T-shirt, $15
(designed by Eddie Lahti)