Name: Anastasia
Pronoun: She/Her
When did you start coming to Just B Yoga? What attracted you?
Five years ago. I had just moved to the Lansing area and knew I wanted to find a yoga studio. I was fairly fresh out of college and didn't have a lot of money. I Googled yoga studios and found this is a donation-based studio. I thought I could do the suggested donation amount and got more excited by the description of the 2XL class at the time. I had been to a few other yoga classes and was always self-conscious of being a taller, larger human. So I was excited by the opportunity to feel more comfortable in this class.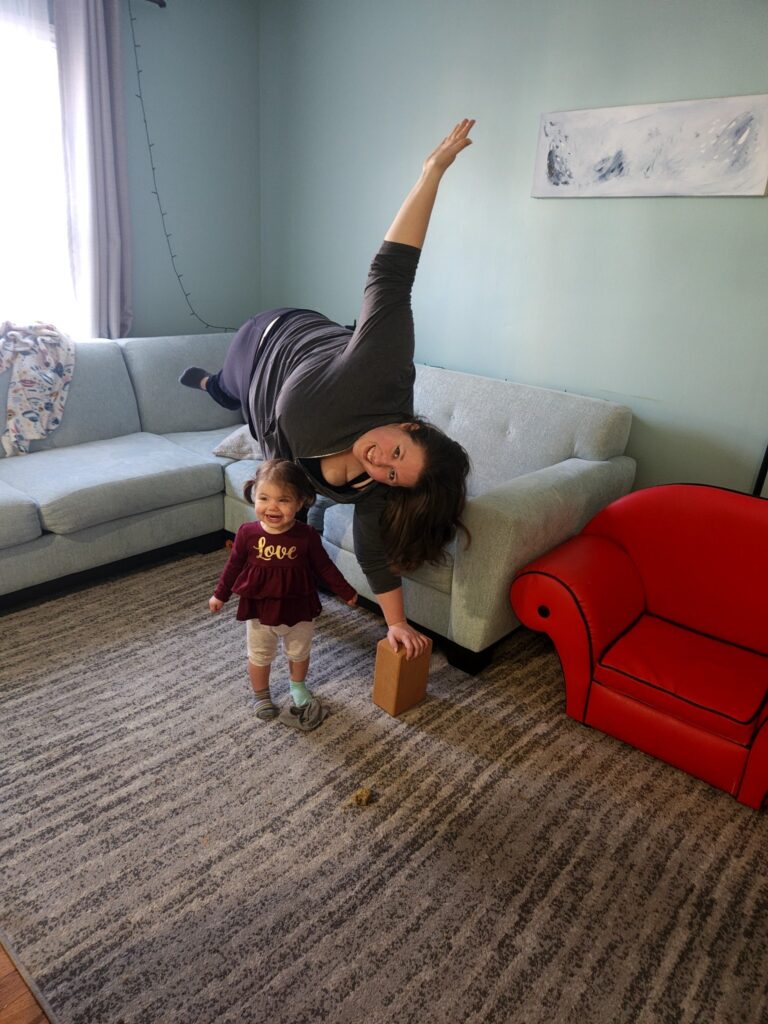 Why did you begin practicing yoga?
Initially it was the combination of exercise and stretching that made it enjoyable for me but from my first class with Belinda I realized it was way more and it has honestly helped me become a better version of myself and getting to know myself.
What's your favorite class & why?
I will always have a fond memories of 2XL and the friends I made there so I love to still practice with them on Saturday.
But I also really love Yin Yoga and typically practice it when I need to restore my body. I crave the deep stretching and sitting in a stretch pose for a while while untangling my thoughts.
What's your favorite and least favorite postures and why?
I love Pigeon, again a deep long stretch. I love shoulder stands on the benches. It unlocks my back after a yoga session. Plus I feel bad-ass when I swing my legs up the wall.
I really hate Warrior 2 after one minute of being in it. No matter how often I practice my upper thighs are still whiney when they have to contribute.
What is yoga to you? (exercise, meditation, community, spirituality…. more)
Yoga is a way to untangle my mind and give myself the space I deserve in my life both with exercise and self care. It continues to be a positive change in me that I can then model for my daughter.
How has yoga surprised you?
I never expected that when I was looking for an exercise class I would find a community. People who have changed me for the better by simply being them. I never thought I would meet a teacher who would not only invest time in me but would also invest time in my child. I really look forward to the days that I can bring her with me to the studio and let her experience all of what yoga truly is.
What are you working on right now on or off the mat?
I am working on taking back my mental peace
Have you seen your practice impact the rest of your life? If so how? 
Absolutely, when I fall out of habit of continual practice I not only feel it physically but mentally as well. Yoga has taught me a lot about myself and learning to let go of control.
How do you feel your yoga helps you serve others?
Yoga helps to fill me up so I can pour out to others. The saying "you can't pour from an empty cup" is how I feel about my practice. I can't serve others if I don't practice and fill back up.
But as someone who was new to the area when I started, this yoga studio has also shown me the community around us and how to always be serving to those in it.