Name: Laurel Tilot
Pronoun: She/her/they
When did you start coming to Just B Yoga? What attracted you?
Summer 2017. I had two friends from work who frequently talked about the studio and I had just finished my first ever power yoga course over at Lake State Crossfit. I wanted something in a different environment that would help me ease into things long term. I knew as soon as I walked in the door and breathed in that relaxing smell of sage, nag champa, and fresh air that I was in the right spot.
Why did you begin practicing yoga?
I had just moved to Lansing and I was hoping to join some sort of community of like-minded folks that could appreciate my unique brand of humor and sick dance moves. I had a notion that folks into yoga would hopefully be pretty open, and I started the power class because, well … who doesn't want to feel powerful?!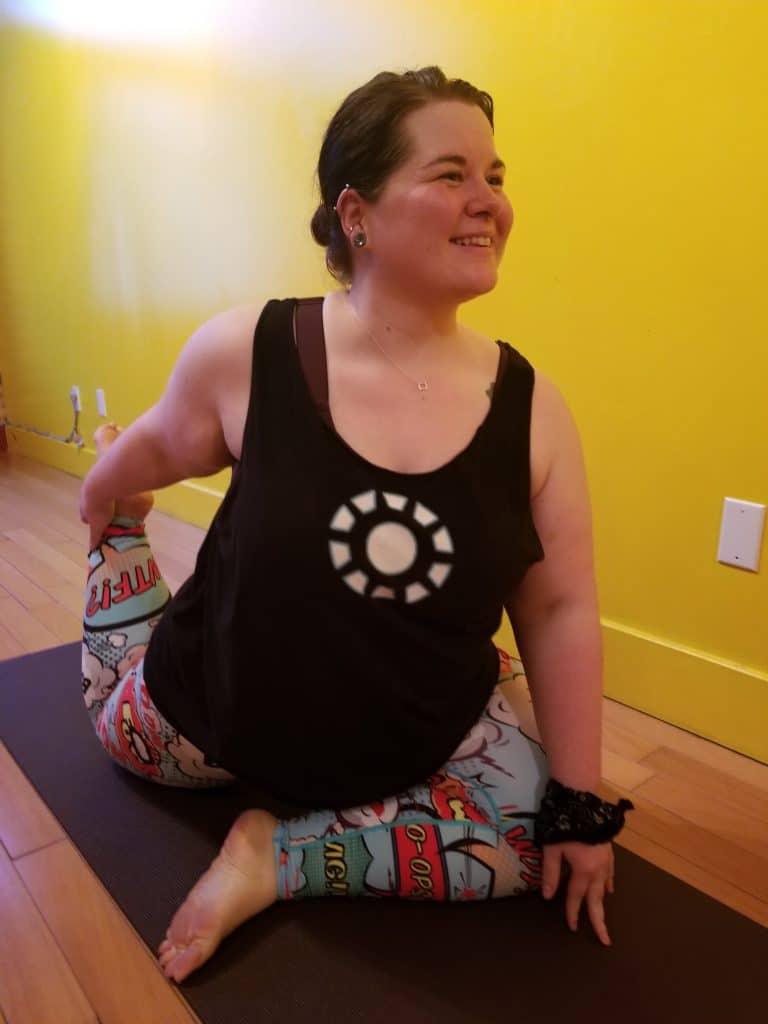 What's your favorite class & why?
Yoga 2eXceL on Thursday nights! We're rowdy, sweaty, energetic, and we all know exactly what it's like to move a big body in the world. No one judges and everyone just "gets it."
Do you have favorite teachers?
I love Belinda, Heather, and Donnielle. They all have great energy and bring great light to every class.
What are your favorite and least favorite postures and why?
Favorite: Supported fish. I can really just relax and undo a lot of the nonsense done to the body while sitting at a desk all day.
Least favorite: Crescent warrior. It's so hard to stay balanced because I have sad tendons in my ankles and feet! On bad days, that one can be really painful!
What is yoga to you? (exercise, meditation, community, spirituality…. more)
Yoga is a combination of exercise, meditation, community, and bodily wholeness. It is a place, both a location and a spiritual spot, where I can move my fat, strong body in ways that society typically says are undesirable or unattractive for a big person to do. I feel safe to do what I want in ways that I want to do it, I feel safe to make space for my body by modifying poses or sometimes sharing a mat with a partner when the studio is crowded.
How has yoga surprised you?
I am surprised by just how strong I feel after leaving a class. We laugh and move for an hour and some days I'm just shaking by the end of it, but I've never once felt nervous or like I couldn't keep up. I think that's the biggest difference here at Just B—you never feel like you're competing with the yogis around you; you're just in the space together on a similar path.
What are you working on right now in or through your practice?
I am working on two things: One, staying flexible/increasing mobility in my hip flexors to make my powerlifting technique better. Two, I am working on taking that feeling of safety and bodily autonomy and sharing it with other friends of mine who struggle to accept that their bodies are big. I'm trying to help them to see that they don't need to drastically change their bodies to be happy. They can just change the way they interact with a world that wants them to be small. Take. Up. Your. SPACE!
Have you seen your practice impact the rest of your life? If so how?
I have grown so much more confident in the way that I move and talk about my body. Somehow in the last year I have gone from tentatively flexible to actually athletic. I'm doing something fitness-related five to seven times a week, all because I've cultivated a sense of belonging in this community and that I enjoy being active and strong, not because I want to be smaller (which used to drive all of my physical endeavors).
How do you feel your yoga helps you serve others?
I hope that my yoga mentality opens up this world of confidence to other folks. Sure, I have my days where I feel like the differences I make are small or nonexistent, but when friends of mine who I never would have thought are interested in fitness send me a message asking for my advice (like, holy crap, when did I become a go-to fitness person??), I know that what I'm doing, even if it's just for myself, is still making an impact on the people around me.