This is not a sob story about losing a cat. It's a happy-ending about life and living.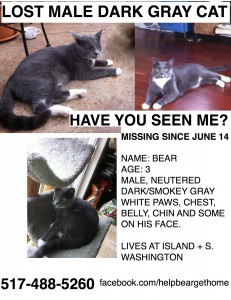 I can still feel the whole-body numbing pain of realizing my cat Bear wasn't in the house.
He was missing. He was gone.
June 14, 2013, after picking up a flat of strawberries and my first morels, I had some futons removed from the house by a garbage hauler.
It was a Friday. I didn't panic that I couldn't find him immediately. He hides when he's scared. I went to get my hair cut and taught my 6 p.m. Hip Hop Yoga class.
Then I looked around in the house again and realized he wasn't just hiding somewhere.
The futons that were hauled away had been destroyed by my cat Bear. He had torn open their underbelly to create hiding spaces because he was a skittish cat.
I was fed up that day and determined to get rid of the eyesores.
I've kicked myself over and over again for that decision.
If I hadn't suddenly decided to get rid of the furniture, my cat would be here on my lap right now.
I don't know how he got out. Did he slip out a door. Was he in the furniture? Did he jump off the deck?
I don't know when. Morning. Afternoon. Evening. I was in and out all day.
I don't know where he might have gone, he was afraid of his own shadow.
Dash across Washington? If he was in the furniture did he jump out of a moving vehicle or eventually jump out of the furniture after it was dumped? Did he get squished in the furniture?
[message_box title="GIVING BACK" color="red"]Thanksgiving Day Yoga, 9 a.m., half proceeds go to Ingham County Animal Control shelter. SIGN UP[/message_box]
My Bear, who came to me after being found on a highway three years before, literally disappeared.
That's how the Summer of the Lost Animal began. Many lessons and revelations would follow.
You see, as I hunted and searched and flyered and put together volunteers and called psychics, more animals came in and out of my life.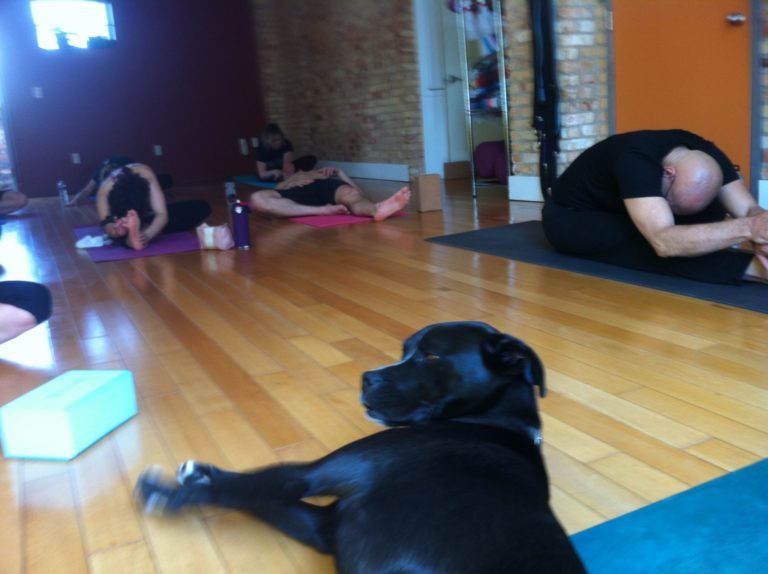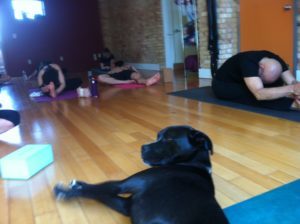 There was King, the down-the-street dog neighbor who needed to be rescued from the pound after getting loose.
There was the pug that was found after being dumped from a car on my street.
There was Leelu, who was found by a yoga student, who called me because apparently pet rescue is what I was getting to be known for this summer.
There were the calls offering me unwanted cats.
There were countless Bear look-alike cats and one that actually now resides with me.
There was the death of my eldest cat, Sunny, who lived 16 years with me spanning four states, my entire journalism career and two relationships.
There were the calls from shelters checking if they could remove the listing of my lost cat.
I never really got to "mourn" Bear. The drive to find him became a mission, a job unto itself that distracted me from the pain – a little. I had a few nights of outright wailing tears. I know a lot of it was guilt and a feeling that I had failed as a pet owner.
Then as I mapped and videoed and Facebooked the hunt for Bear I started to become known as some lost pet person. People would ask me for advice on how to find their pets, how to trap, where to look for information, how to post listings.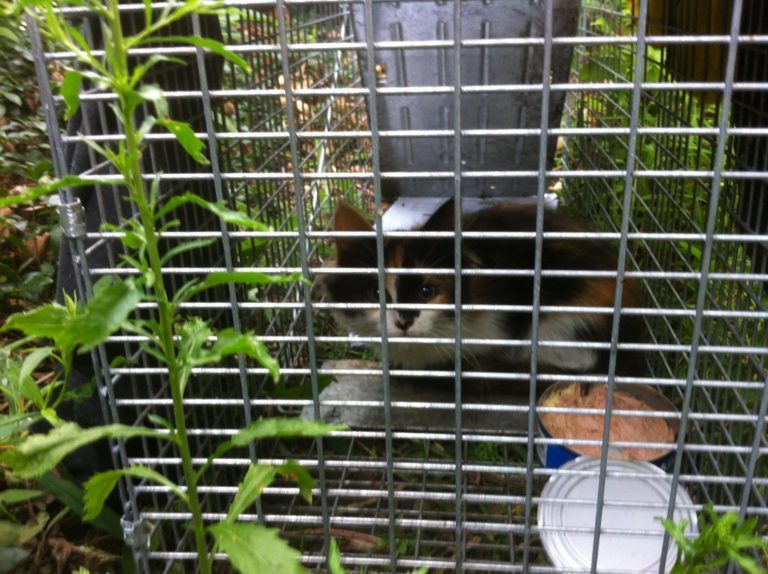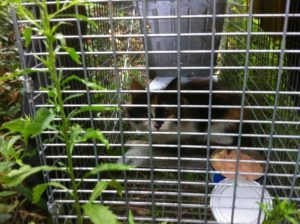 I resisted at first. I was looking for my cat. MY cat. Not anyone else's. I wanted to be selfish.
Then animals started showing up.
Of course we needed to find King a home. Then the pug. Then the small pit bull mix.
I reached out using the Help Bear network to help these creatures. And it worked!
King lives on a farm now, very happy and safe.
I found a pug rescue to take the little girl pug and she's prospering today.
Leelu got a home with a loving person who dotes on her.
And the kitten that was in the Not Bear file – a look-alike – lives with me today and her name is Xena, indeed a warrior princess.
The Help Bear network was helping seemingly every pet except Bear!
My weekly drive to the Ingham County Animal Control shelter was a ritual of necessity and dread.
I didn't want to get my hopes up. I wanted to get in and out as quickly as I could and hopefully not feel dread or fear or sadness.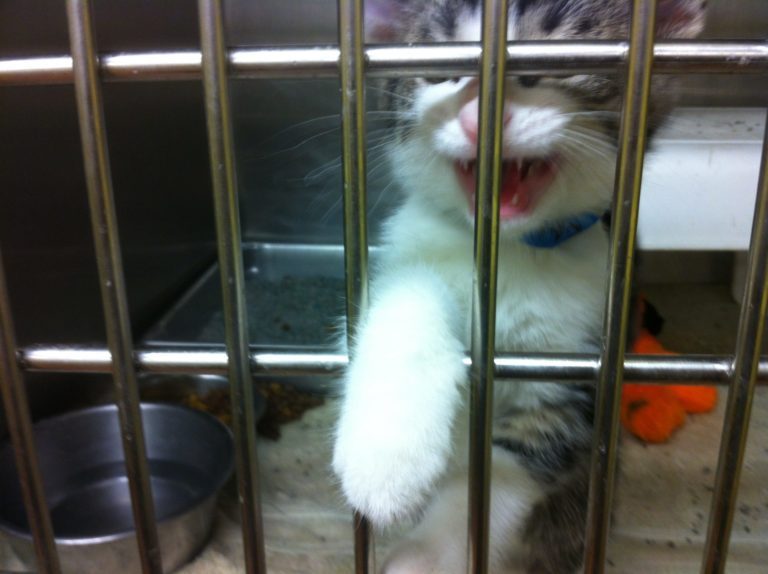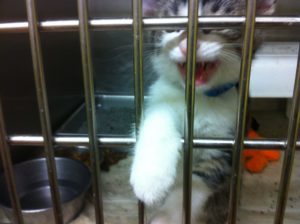 Then a volunteer recognized me, "You're looking for Bear? We look for Bear every day. You are so dedicated."
Wow. Someone knew who I was? I wasn't the yoga lady. I was the lady looking for Bear and they wanted to help me, they felt my pain.
That's when I started to feel. But it wasn't just feeling my pain. It was feeling connected and grateful for people.
The people at the shelter. The people in neighborhoods all over Lansing who helped me search or called me or gave me tips.
There's two ladies over on Herbert and Isbell who I drop in to say hi now and again. Our only bond is that they live in a Bear sighting neighborhood.
There's a great family on Beal that let me stake out in their yard with traps. There's two awesome little boys on Osband who rode around on their bikes helping me flyer and showed me cats they thought were mine.
There's a lady named Renee who I met only on Facebook but who posted a picture of cat she thought was Bear and she let me go to her house when she wasn't home in order to try to get a sighting. She also spent nights trying to take photos in the dark of a dark gray cat to send to me.
There's the friends who formed search parties or lent cat carriers (I have two still that belong to someone), live traps, cat food or tuna, flashlights.
I sit here almost six months since losing my dearest pet, finally able to write about it. He was my favorite out of my cat family.  I can only hope he's alive and someone is caring for this sweet lovely creature. He's one of the most loving, tender and trusting cats I've ever had.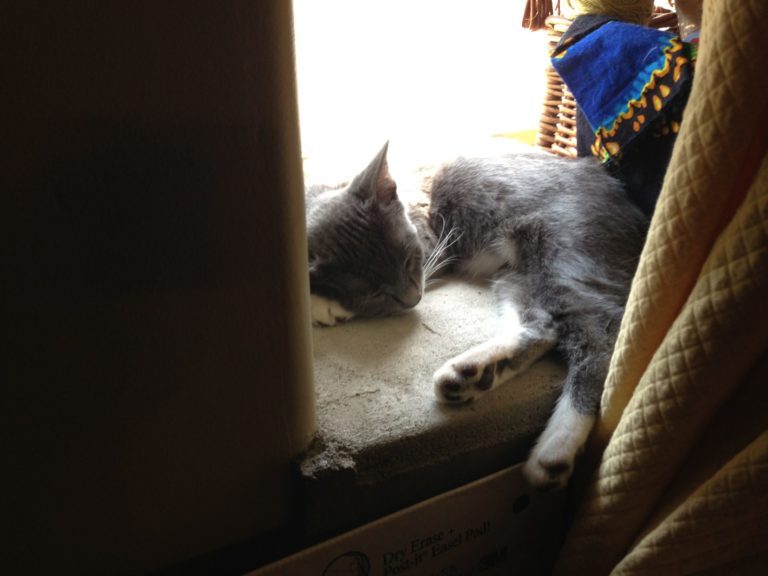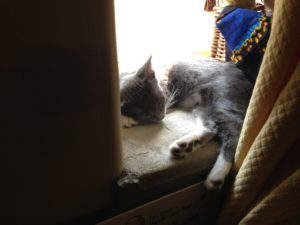 I thank Bear for being with me while he was and for the lesson of this summer. It's a lesson within the loss. It's bitter and sweet.
He taught me that I can and should still love unconditionally and with a passion despite the pain. And isn't that life?
The balance of life is both sides, the pain and the joy, the smiles and the tears.
Did I know this before? Yes. I've endured the death of family members due to illness or old age.
But this was my first "unfair" or "unexplained" loss. This felt like punishment or a curse. It was a pain that felt inflicted, not natural.
It's like the universe sent me the Summer of Lost Animals in order for me to see all the richness around me. And not just see it, but I had to let myself experience it.
I had to accept each moment – the sweet and sour of it.
I had to let myself feel and live the richness to fully know.
My loss and pain loosened me to receive a bounty of love and community.
Just B Yoga's Thanksgiving Day yoga class will give half  the proceeds to the Ingham County Animal Control Shelter as a thanks for their support and all the work they do. They are celebrating a year of no euthanasia due to overcrowding. What wonderful angels and champions for our pets.