I get contacted a lot about our donation-based model.
Sometimes it's from the media, like Mindful Studio magazine.
Reporter Kaitlyn Clay interviewed Just B Yoga about the pros and cons in her article "Opening a donation-based yoga studio."
I honestly forget sometimes that we are donation-based and that it's novel for some. It's become such a way of life that it's the norm. I see Just B Yoga more significantly as accessible for all bodies and trauma-sensitive and community-focused.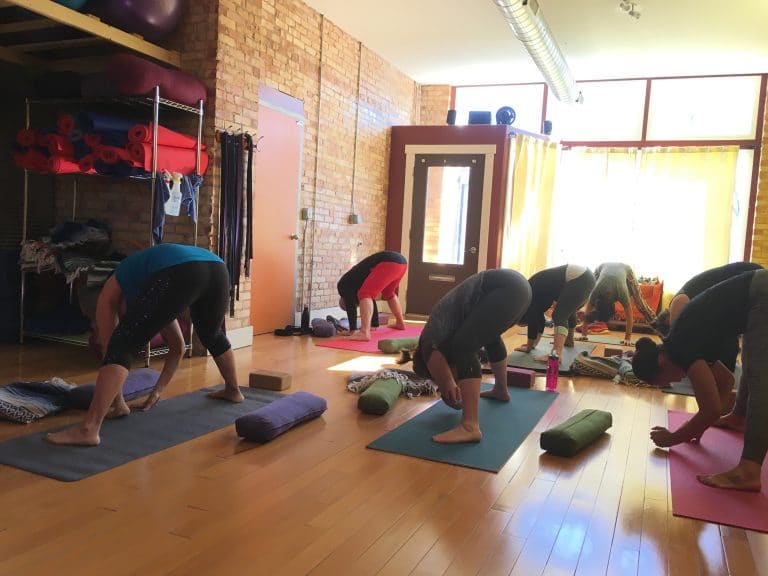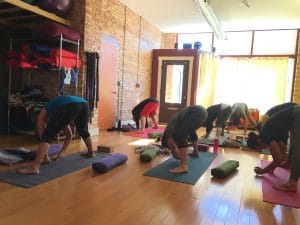 But lately the money model is what's gaining curiosity. I'm grateful for the opportunity to reflect on it more and analyze the roots of this model for us and whether it "works."
We got this inquiry recently via Facebook: "Hello! I am in the process of opening a donation-based yoga studio in San Diego. My partner and I came across a blog post you wrote about donation yoga, and we were interested in chatting with you about it and asking some questions. We were wondering if we might set up a phone call or Skype with you."
And then we got this email last week. "I WANT TO FOLLOW IN YOUR FOOTSTEPS" was the subject line.
The person wrote from Florida: "First of all, I'd like to say that model in which the studio is based is absolutely inspiring. Second, I'm writing this email to ask for advice on how to start. I'm a freshman in high school and currently trying to begin my service project. What I want to create is a donation-based salsa class in order to raise funds for a humanitarian mission in Venezuela. As I've been doing my research, I noticed that your studio does this as regular practice. I want to say that I extremely admire what your studio does and would like to ask for any advice that you could give on how to start."
Donation-based is a "feel-good" model. That's for sure. It's one that the most starry-eyed optimist wants to believe in and applaud.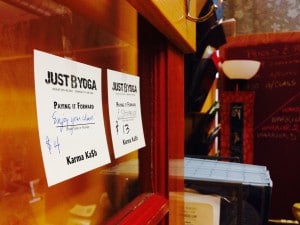 But there's a lot of practical nuts and bolts that have to be considered:
* Low Overhead – you need low overhead because your revenues are going to fluctuate
* Location, location, location – locate in an accessible place where your target audience can easily get to it
Quality – no matter what you've got to teach quality yoga and especially to diverse bodies which will be attracted to the donation-based price
* Diversify the revenue stream – have programming that isn't donation-based that brings in a dependable income (workshops, special trainings, etc)
* Be committed – you have to ride a lot of ups and downs before you find the right equation for you. Meditate on your mission and commit to it. Just feeling good about the model isn't enough to sustain us. We have to promote it, live it and have patience with it.
So, does donation-based work?
It works for us.
I can honestly say I don't regret this model. I have been fortunate enough to have a community that believes in what we offer and they support it with their attendance, their referrals and their donations.
The result has been the luxury of just viewing Just B Yoga as the community-based and accessible studio, not just the donation-based or cheapest.
I greatly admire Yoga By Donation, in New Hampshire. They've been doing it longer than I have if you want to ask them for tips too!
As to whether it works for you and your studio, I don't know. Maybe just have one or two classes a week that are free or donation-based or that raise money for a cause. You've got to make it fit your mission and your pocket.
Hope this helps. And I'll keep you posted on the folks who've reached out to me and how they do with trying to create donation-based yoga in other areas of the country.