I can remember the folds of my mother's skin as I bathed her before she died.
I felt like I could feel the passage of time and love and birth and life in the texture of the skin.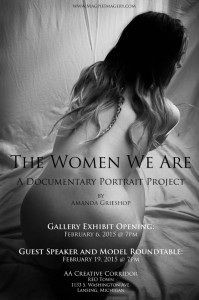 I could feel what she gave, shared, exuded over that span.
I could remember the younger robust body that had been with me when I was 5.  The shine of her skin, the fullness of her breasts, the contour of her tapered fingers.
Her relationship with that body fluctuated from sassy and sensual to angry and punishing over the years. Her relationship thereby set a model for mine.
"The Women We Are" nude photo documentary project at Creative Corridor sets a beautiful stage for dialogue around our relationship with our bodies as women. These vessels are complex. They carry our spirits, help bring forth and nurture others, they are sex symbols and objectified, they are spurned and criticized.
The exhibit displays images of local women in relation with their bodies of all sizes and shapes. They are honest images revealing more than breasts and vaginas or pubic hairs. They are authentic as statements of raw being, true being….just being.
Just B Yoga is proud to support this project as a sponsor.
Just B Yoga students are invited to show support as well, not only by going to see the exhibit which continues through March 4.
But we are offering our students a 15% discount on the purchase of the book.
That would make the book $39 plus shipping.
This offer is good through March 31.
Sign up and pay at the studio or purchase in our ONLINE STORE HERE.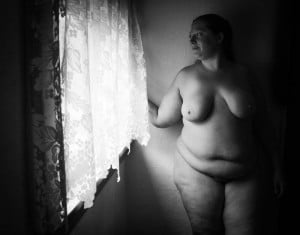 Read more about the project in the Lansing City Pulse article HERE and on the photographer, Amanda Grieshop's website HERE