Scrolling through our You Tube accounts I started looking up the videos with the greatest views.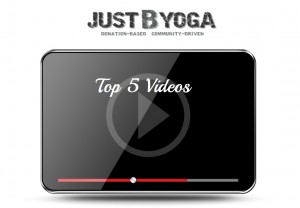 None of them are about how to do a yoga pose or how to sculpt your body. These videos spotlight community and transformation.  Thank you to everyone who's a part of the Just B Yoga journey. It's our collective action, our collective voices, our collective practice that makes the difference.
#1 Transformation through Yoga. 3,499 views.
We created this video not only to help promote Just B Yoga, but to submit it for a contest through Yoga Alliance in hopes of winning a trip to a yoga conference. we didn't win, but it was awesome to see how many people watched it. Video shot by UnoDeuce Multimedia. Uploaded August 2012
#2 Julia Butterfly Hill, Yoga Superhero, 2,905 views.
I shot this at the Midwest Yoga Conference in June 2010 before Just B Yoga was even born. This conference inspired and motivated me to commit to community, affordability and accessibility through yoga.

#3 Yoga Breakdancing, 1,034 views.
This is Amare Devers, yogi and breakdancer extraordinaire. He's the son of Monica Pino, one of our yoga instructors. The quality of this video isn't great but wow! People like it.  But what's not to like? Amare is awesome! Shot by Belinda Thurston. April 2012.

#4 Spiritual activism, yoga and money. 483 views.
This a panel discussion with Julia Butterfly Hill, Seane Corn and Saul Rey at the MidWest Yoga Conference in 2010. Shot and edited by Belinda Thurston.

#5 Just B Yoga: Saluting the light within.  404 views.
This is a video of our 108 Sun Salutation Solstice practice in June 2011. Shot and edited by Courtney Morra.

Almost made the cut: Just B Yoga: Creating your own song. 311 views
December 2011. Fun to see students we haven't seen in a while, scenes from the city that have changed now and hearing the songs that inspired us then. Shot by UnoDeuce.

Thanks for helping us grow and just be here in Lansing.
Namaste.