So, this is an update to the original post. After a lot of conversation and consideration I have changed the name of the class to Yoga 2eXceL. The name was becoming too distracting and I think we still get our point across that yoga isn't about size or body image. It's about exploring and expressing your true self, free of those trappings.
We hope you join us to explore this class.
ORIGINAL POST:
Just B Yoga has had a classed called Yoga 2XL for two years. It's a play on the word Excel but meant to convey it's for larger sizes as well. (Yoga 2XL is Tuesday at 6 p.m. at Just B Yoga)
We feel passionately that yoga should be made available for all shapes and sizes. As yoga has become more popular it has also been used to perpetuate a stereotype that yoga is for skinny people and particularly skinny women. But yoga is for all body sizes and shapes and serves to benefit us beyond our bodies and physical health. It can help us find a more positive self talk with and about ourselves.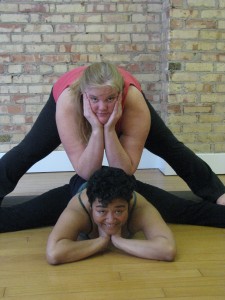 We are grateful for our teacher, Connie Varma, and our students who have come to find their practice in a non-judgmental space.
Recently the name of the class has come into criticism on our Facebook wall. Some folks feel the name, 2XL  is insulting.
"…Not sure naming a class Yoga 2XL is a step toward a positive body image!" one reader wrote.
"I didn't read that as Too Excel….I read it as too x-large. It is an insult because who are you to decide who is too large for regular yoga?"
What is regular yoga? Should we support a class for larger bodies? Does it separate and segregate or enable and empower?
I write this only to share our sentiment here at Just B Yoga. And I want to open the conversation up on the need for the class and what the heck to call it.
Skillful teachers will modify their teaching to the needs and limitations of their students. We offer different poses and sequences for arthritis and joint replacements, wrist issues and high blood pressure.
The fact of the matter is those who are bigger or taller have physical issues to work with and around when it comes to moving their bodies.  Girth can be a challenge to work with in forward folding and twists. Size can have impact on joints and endurance. Size affects wear and tear on our bodies. We would be lying to say it doesn't.
"Regular" yoga classes, as the reader mentioned, often go at a pace for those already fit or those seeking a workout. They often call out postures based on what the teacher can do and not what the students find accessible.
Tailoring a class for bigger bodies indicates to the student "this class will make yoga accessible to you and not make you feel you CAN'T."
Folks of all sizes are welcome into the room – we don't weigh or measure at the door. But they know the class is being taught to accommodate certain limitations and or challenges.
Now…when it comes to what to call it? That's the tricky part and it's where we run into resistance and reactions to perceived insensitivity and insult.
Plus-sized Yoga. Fat Yoga. Buddha Body Yoga. Big Yoga (Grand Rapids). Curvy Yoga.
Anna Guest-Jelly – the founder of Curvy Yoga encouraged me to be honest in my teaching when I reached out to her. And she doesn't shy away from using the word "fat."
Is fat a bad word? Big? Plus? Heavy?
Is it an insult? Or do we feel so self-conscious about it we don't want it uttered in public? Is it like WE can call ourselves fat but others can't?
Wise and mindful speech is just as important a piece of yoga as asana, so we do want to extend our practice into our words. We at at Just B Yoga wanted to convey empowerment but also make it clear that it was for larger sizes. Thus 2XL.
I have had folks call me and say "that's my shirt size, is that my yoga?"
We hope the title just opens the door to someone giving yoga a try who might not have otherwise. We hope they see our space as an environment where it's safe to wear yoga clothes and not feel judged. We hope our students gain positive body image and confidence to attend ANY yoga class with the practice that they develop with us.
So, what do you think?
Should there be yoga classes for bigger bodies?
What should it be called? Should care be taken in the naming?
How can the name convey loving kindness?
Deepest gratitude.
B