Who goes to Just B Yoga, Lansing's donation-based yoga studio?
The typical Just B Yoga student makes between $30,000 and $60,000, lives in Lansing, has at least a bachelors and if they're a student now are likely working on a doctoral degree.
They're "queer, female-ish, transgendered and hetero."
They're "mixed, biracial, white as shit, human."
You tend to go to power yoga, basics or yoga 2eXcel (bigger body yoga).
That's the snapshot from our recent student survey.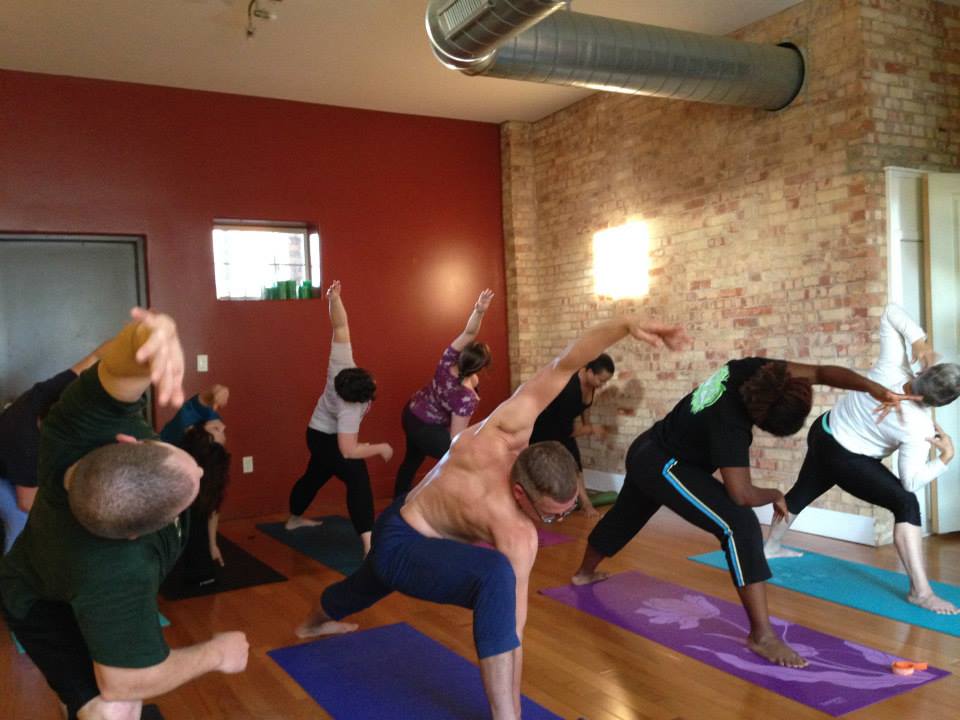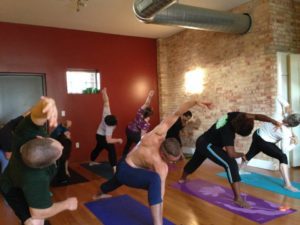 When Just B Yoga began three years ago, it was with a simple thought – make yoga affordable and accessible. Bring it into south Lansing, put it on a bus route and don't make money an issue.
Every day I wonder if I'm meeting that mission.
It's an "if you build it" kind of question
There is no doubt people are coming. We have about 200-250 students a week.
But who are you?
What's the face of those attracted to donation-based yoga?
And how will you feel about these results?


Our recent student survey revealed some interesting things about who comes to Just B Yoga.
Average age of 39.2. (The only age I omitted that was entered was 99. I apologize in advance to my 99-year-old student who is either amazing looking or I haven't met him or her in person).
59% live in the City of Lansing. 11 % East Lansing.
Income:
34% make between $30-$60K.
The more educated you are the more you need yoga? Your brains need to de-stress?
44% have an undergraduate degree
29% have a graduate degree
8% have a doctoral degree.
And we're making more smart people. Of those who are students currently:
46% of are currently doctoral students
17% are graduate students.
You're finding balance in your practice. There's about an even population among power yoga students and basics yoga students. That's cool.
Most of you drive, but 6% ride your bike to class and 3% walk. (I will ask that question differently next time and allow multiple answers, realizing that during some seasons some people use bike or walk more than others.)
Our mission is important to most of you but 13% said it's not the most important aspect.
And if we weren't donation-based 81% of you would still come to the studio, but 19% said no.
Race and ethnicity?
First of all we left this open-ended and optional. We wanted people to describe themselves or not.
This is where you guys had a ton of fun.
Here's some of the highlights:
"Polish BAybe! And Irish… native/english caucasian Mixed Anglo Mixed Hispanic black Caucasion American pimp AsianWhite/Black/American Indian white/non hispanic European Caucasian Asian-American African-American South Asian No Whitey bi-raciallatina white Asian (Indian) Black Cracker Human irish mutt Mexican White as shit"
My personal favorite is "no."
And how do you gender identify?
Again, we left this open-ended and optional.
"GenderQueer Trans man, queer sexual orientation Male Frmale Male / gay F A broad Female/Hetero male-ish f m No Female/pan/hetero married female/ bisexual Female I think Woman, Queer identified Lesbian #sheROARS Female-ish Queer transman Woman! female Female/Gray-Asexuallady heterosexual"
So, maybe you're wondering if these are the people we had in mind when we started this social yoga commerce experiment. Maybe you had a different image of donation-based yoga – a  little poorer, a little less educated, fewer cars?
I love who you've shown yourselves to be. You're making a mindful choice to practice with us. You feel accepted and welcome in our space. You want to make a difference in your community and help your neighbors have access to practice.

So yes, you are who we wanted to serve.
You are a diverse group of people racially, economically, politically. You are primarily in Lansing. You go to classes that are tailored for real people.
Based on income, 75 percent are helping subsidize about 25 percent who make less money.
Some may look at that figure differently and see people who can afford yoga getting over on us. But you don't know our students very well.
Stats from our MindBody system show 80 percent pay our $8 suggested donation or MORE.
And 80 percent would come if we weren't donation-based. You could view it as 20 percent couldn't afford to come if we weren't donation-based. Or you could again go to the getting over mindset.
And lastly but probably more importantly, the mission is compelling but not paramount. I see this as an endorsement of the quality of our classes and teachers.
From a survey response: "I love the community aspect and the friendliness and realness of the participants. Participating in a class full of bodies that look like mine and bodies that look different than mine, and bodies that work similarly to mine and bodies that work nothing like mine, feels like real yoga, and takes a lot of the "supposed to's" out of my brain. We all do what our bodies need, and it's different for each person. I appreciate the incredible intelligence and wisdom of the teachers, that they are always able to keep me safe, to teach me, and to challenge me to grow. Mostly, I love the acceptance that I feel in every part of the studio, from the teachers, to the staff, to the fellow participants, and the acceptance I am encouraged to allow myself."
Who goes to Just B Yoga?
Some very awesome, generous, empowered, responsible and thoughtful people.
Maybe that's a glass half full perspective. Maybe you think I'm not seeing the negative trends or info in this survey. Oh well. What do you expect? I own a donation-based yoga studio!