Just B Yoga is partnering with local farmers to offer fresh local produce at the yoga studio.
We are currently working with two farms and will soon have a third.  We emptied our shelves of packaged water and went with greens, beans and more.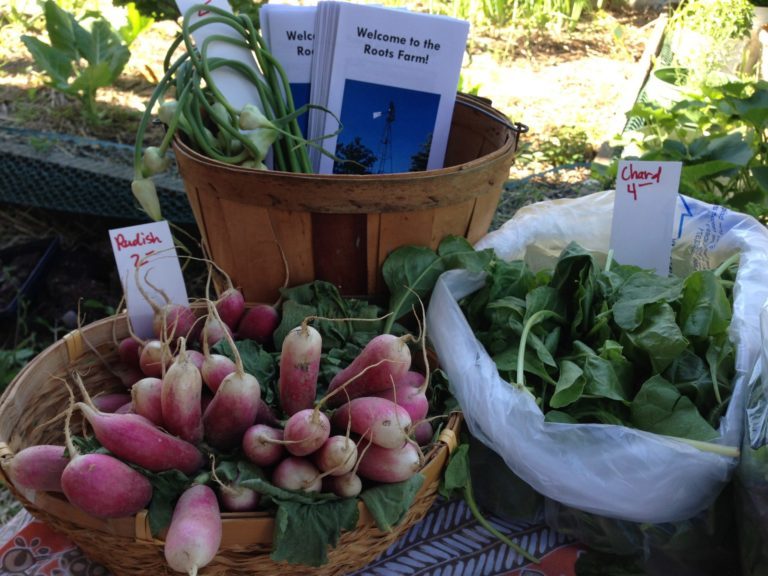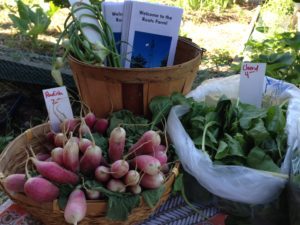 Yoga sells. Just walk into any yoga studio and you may see racks of clothing, jewelry, books, vitamin water, snack bars and of course yoga mats and accessories for the accessories!
We are willing to shell out hard-earned dollars to show how much we love our yoga. What we eat also reflects our yoga practice. Rather than an "all natural" manufactured food bar, why not sell the real thing? And from a business standpoint it's a partnership that makes sense expanding our audiences and optimizing revenue for both.
I didn't set out to sell farm produce. The idea sprouted like a volunteer seedling that revealed its potential to us as it grew.
Foodshed Farm is a sustainable agriculture farm run by Denae Friedheim. Denae started a relationship with the studio to sell salad mix and seedlings this spring as our LGBTQ yoga class was opening or letting out. It turned out to be a hit. Yoga students were asking each week when she was coming back.
Unfortunately Denae doesn't have enough time or energy to run a booth or stand.  Her business is based primarily on providing fresh produce to restaurants. She wasn't able to commit to a traditional farmers market model of holding hours at a table.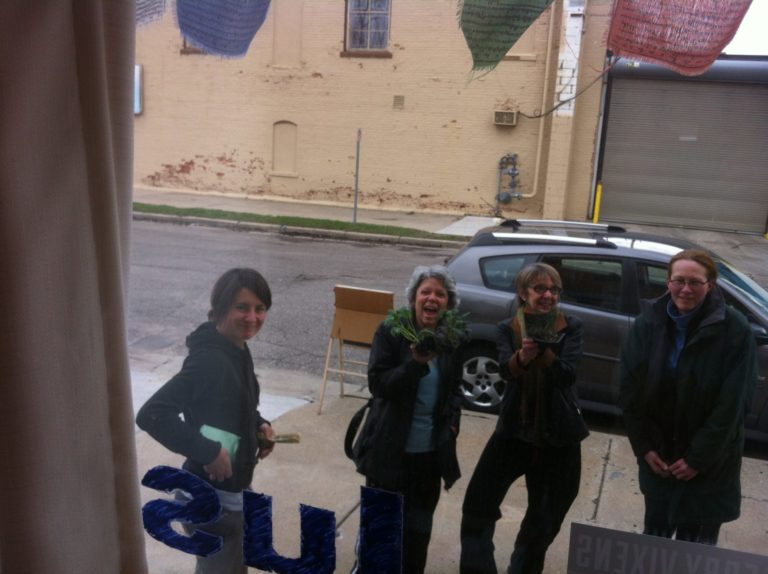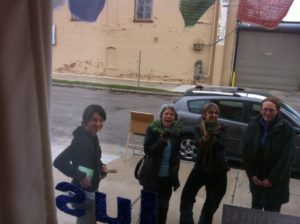 Meanwhile I started talking with a friend of mine, Anna Kaschner, the Lansing Roots marketing and sales coordinator. She wondered if I was working with Foodshed Farm exclusively.
I hadn't thought about it. The answer was no. I have students who were getting used to finding fresh herbs and foods at the studio. They liked the convenience of not having to go to the grocery store. They loved seeing their money exchange in hand-to-hand commerce supporting local farmers, face-to-face.
So a few weeks ago she set up a stand and I posted on Facebook that Foodshed Farm couldn't make it but that Lansing Roots would be there and I listed what was available.
People came just to shop for food, on top of those who came for class.
Hmm. I think I had stumbled onto something.
Then I started sharing the Lansing Roots story. It's a new program of the Greater Lansing Food Bank that is designed to support under-served individuals. Roots provides incubator farm settings to help farmers begin successful market and gardening enterprises. Many of the farmers are refugees. And what's awesome is every dollar the customer spends on an onion or a flower or a head of lettuce goes directly into the hands of that farmer.
So this past week I spoke to both farms and another individual farmer about the thought of leaving their produce in our fridge with their prices, eliminating the farm stand idea and all the time commitment that requires. They agreed and we starting filling the fridge.
Last weekend was so much fun. Yogis left class and stopped at the produce signs asking questions and chatting.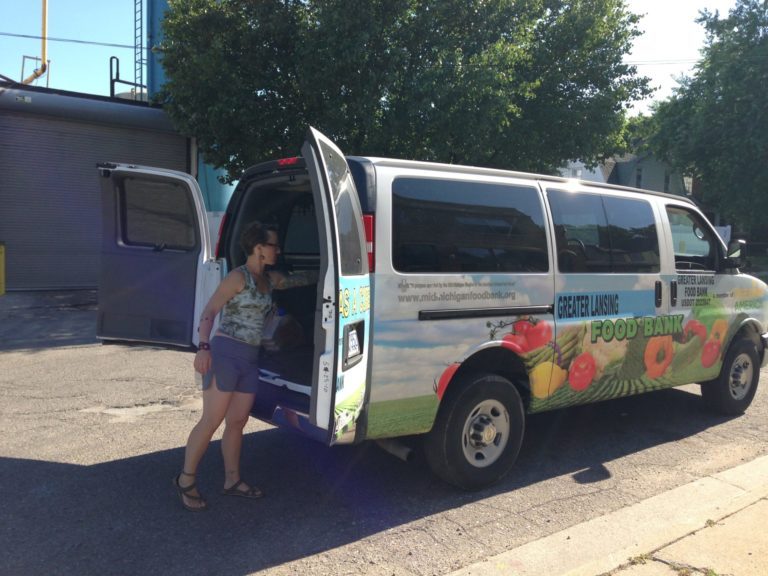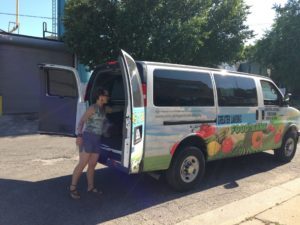 What is kohlrabi?
What does a white lightning radish taste like?
What's the difference between dino kale and curly kale?
What do you do with summer savory?
Lansing Roots sold out of everything. Students left the studio with yoga mats and armfuls of wholesome, fresh green food.
This is creative business partnering that not only opens up a revenue stream, but what I'm most interested in, changing the role and perception of yoga studios.
We have a tremendous opportunity to expand our connection (yoga) within our cities and towns, to increase our impact in meaningful ways. Offering local produce is an extension of our efforts with our own community garden.
The next step I plan is to print a newsletter letting those who live near the studio know they can shop for local produce at our studio even if they never do yoga.
Just B Yoga is located in south Lansing. There is no neighborhood grocery store. There are corner stores and party stores within walking or biking distance. We have a lot of people without cars who are dependent on bus or ride-sharing with friends.
Can you imagine seeing people walking to the local yoga studio to pick up salad, squash and tomatoes? And who knows, maybe one day they'll stay and roll out a yoga mat or come to tai chi class or meditation.
And can you imagine seeing this unfold in every neighborhood where there is a yoga studio? Maybe they are in an area like I am, inner city food deserts where fresh produce is hard to come by.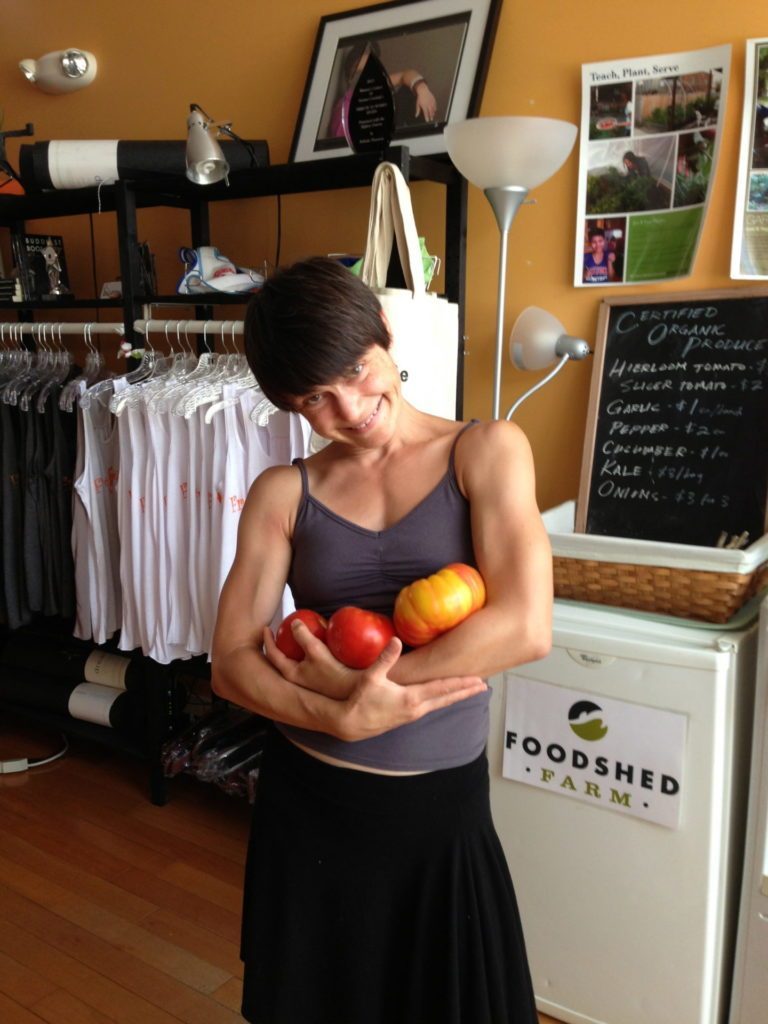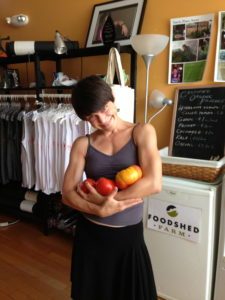 Yoga studios as farmers markets? Maybe if they have outdoor space, they can create community gardens as well. And who knows, maybe yoga and healthy eating programs can emerge from there. (I get a lot of inspiration from the Kings of Flint and their farm, Karate-Ka and Harvest Earth Farm)
I plant a vision challenge for our yoga studios and our yoga practice.  We have so much potential if we explore fulfilling the needs that are right outside our doors.