They came into the room sheepishly and in a trickle.
But what started as two hesitant newcomers turned into a vibrant group of seven for our first yoga class for refugees with the Refugee Development Center last Wednesday.
It was a go-with-the flow kind of day. My only plan was to meet everyone who came where they were, and meet myself there too. I didn't know the conceptions of yoga they would come with. I didn't know the cultural predispositions or oppositions to yoga they would bring. I only knew they had all arrived in this country, this city, with a hope for a new life, likely with untold struggles and pain along the way.
Removing obstacles
There were multiple native tongues with very little English. The age ranges leaned mature to elderly. The physical abilities included limited walking, swollen lower legs and back stiffness. Some wore flowing fabrics. Some didn't want to get on the floor. Eyes were wide, some with shy hesitation, or anticipation?
We all ended with breaths of ease and free expressions of smiles and laughter.
It was a journey that helped me let go of my obstacles and habitual patterns – I apparently talk a lot. That would be of little use here. It helped me communicate and transmit simplicity and acceptance through my own movement, breath and intention, by embodying it. It helped me really be present with those in the room and observing their reactions and expressions. It helped me trust everything would be fine and that my trust would help them.
First, we let go of being on the floor on the mats and put chairs on them instead.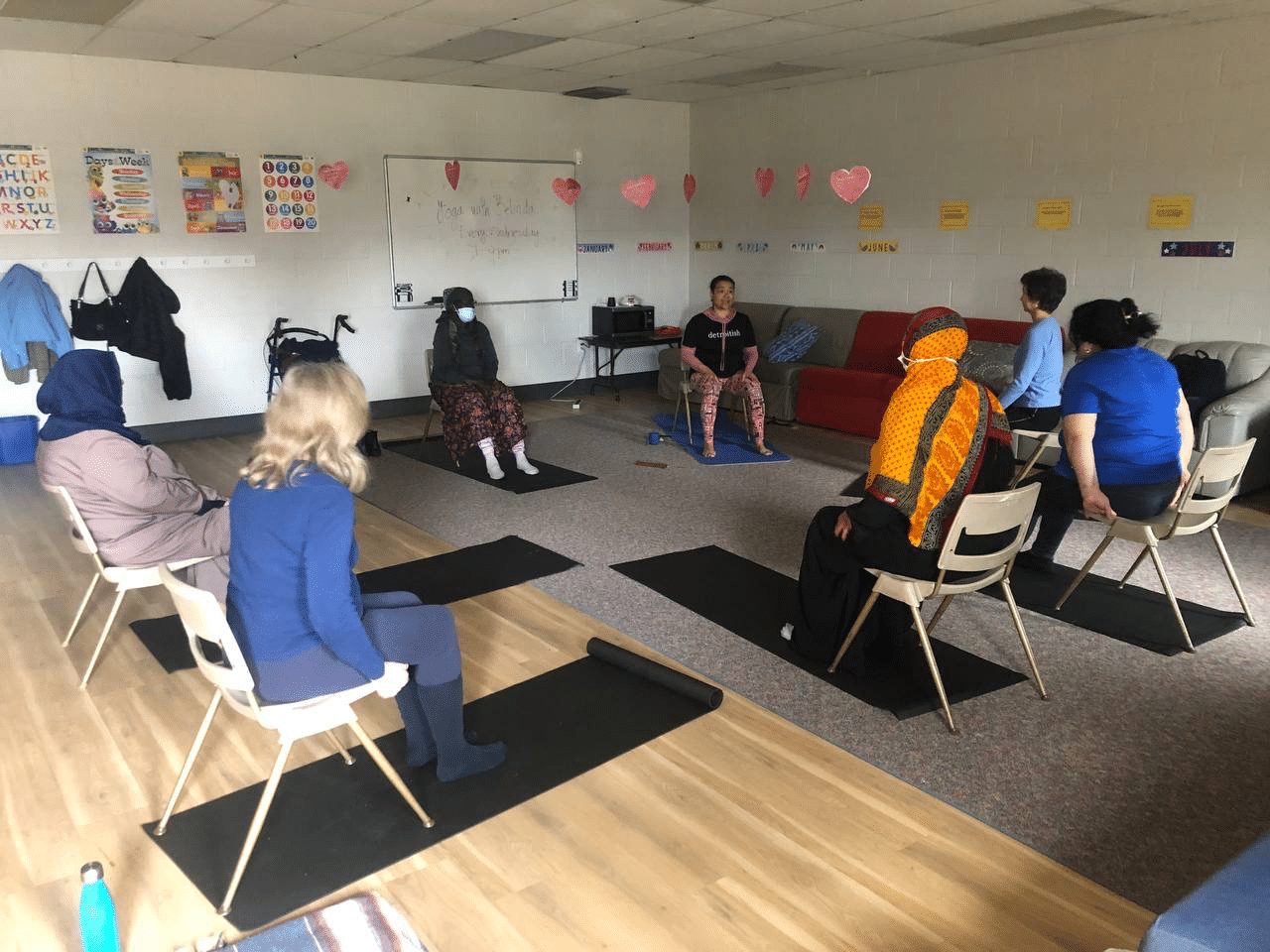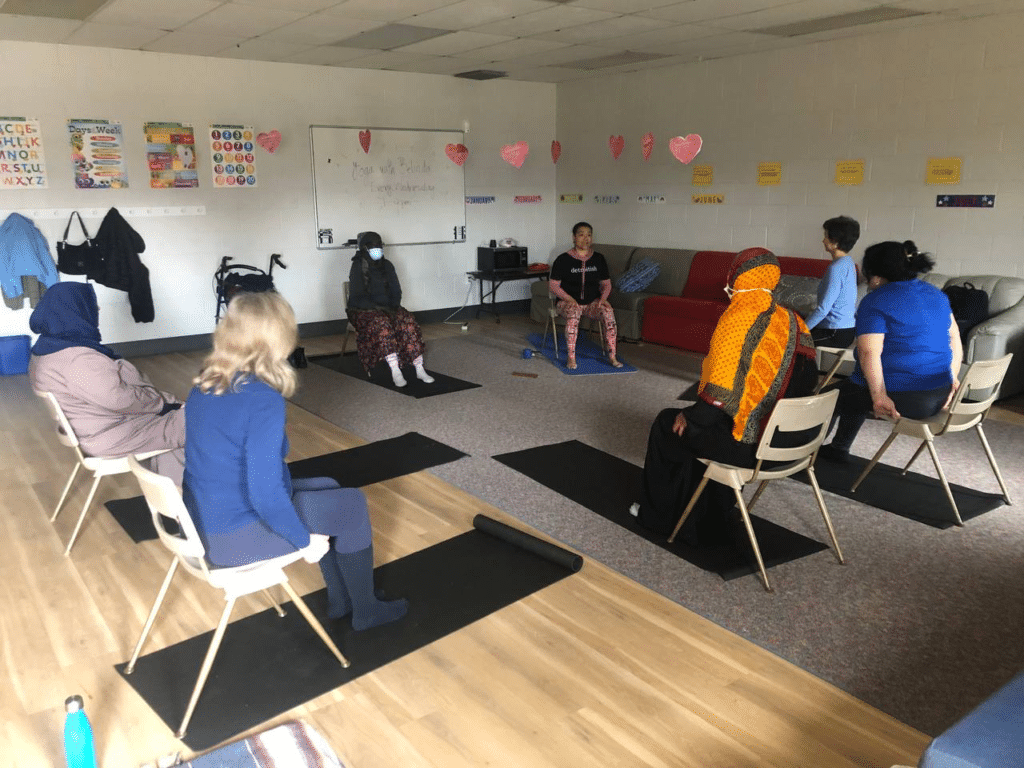 Relief on their faces.
Keep it simple
Simple movements in the chairs were my thought, then I had to let go of speaking and do more demonstrating, sometimes with silly gestures to give it some levity (to help with the worried and serious looks in the beginning).
Some started to speak across the circle to others in Arabic, helping each other understand – bend this, sit up, not so fast (at least that's what I thought).
Be the breath
Guiding breath I had to stop saying "inhale" and "exhale" – noticing how automatic it has become for me to use verbal instruction, and how non-helpful it was to the group. I let my own breath be the guide, projecting it as loudly and peacefully as I could. I smiled a lot, including with my eyes. They returned the smiles.
I got to practice a little Spanish with one woman from Mexico – derecha, izquierda, poco a poco. I tried not to seem to only be speaking with her and leaving out the others.
The poses aren't important
The practice was mindful, patient. I guided us through the whole body – spine, legs, shoulders, neck. The exact poses weren't important. It was the spirit of our practice that felt the most important to evoke, and that spirit was letting go, and everything is OK. We stopped or switched it up quickly at times, when there was confusion or discomfort. We lingered where it collectively felt good and the breath flowed freely.
We ended with the group, a little more comfortable with the uncomfortable, having twisted and bended and breathed with me, the stranger. The most reluctant to join us at the beginning, now nodding yes without hesitation, her walker seemingly forgotten.
Yoga refuge
They agreed to a final pose lying down on the mat and letting their legs rest on the chairs.
Soothing sighs of relief; even a few moans.
Quiet eased through the room.
We ended with a slight bow nodding in each other's direction knowing we had shared a connection, meeting each other with movement, feeling and breath. It was 60 minutes gradually becoming OK with the moment and movement, sharing our common being, letting go of whatever we thought set us apart or created a barrier. We shared yoga as refuge. We got to just be.
That was my experience. I don't know their understanding or experience of the practice, other than the joy and ease they shared as they packed up to leave, and some saying they would be back.
Just B Yoga will be joining RDC for the next five weeks sharing yoga. We are honored.